Posted on
Fri, Jun 28, 2013 : 6:46 p.m.
Authorities use canoe to rescue mail carrier stuck in vehicle on flooded road
By John Counts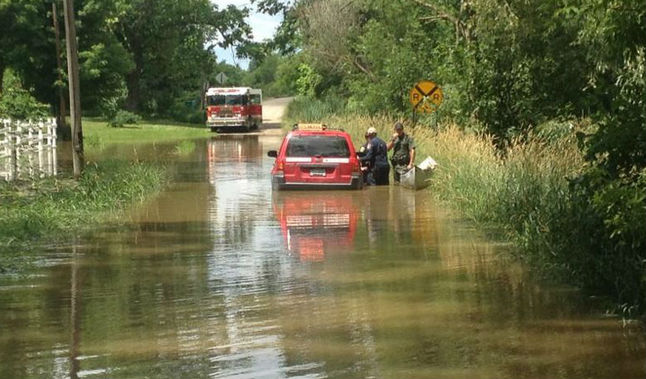 Courtesy of the Augusta Township Fire Department
A mail carrier on a rural route in Augusta Township got in some deep trouble Friday afternoon.
The vehicle she was driving to deliver the mail got stuck in waist-deep water on Rosbolt Road between Whittaker and Tuttle Hill around noon, Assistant Augusta Township Fire Chief Dave Music said.
"She tried to make through a road that was flooded ditch to ditch," he added. "You couldn't see the road. It looked like a river."
The road was flooded from a nearby creek due to storms that swept their way through Washtenaw County Thursday and Friday. The woman though the water was shallow enough to drive through, but there was an unexpected dip in the road, Music said.
At the time, fire crews were on a call nearby for downed wires, but immediately responded when the woman called 911 and said she was stuck.
"She couldn't get out," Music said. "We didn't know if she was pinned in or what."
When authorities arrived, the woman didn't want to open the doors because she didn't want the undelivered mail to get wet.
"We had the next thunderstorm coming in," Music said. "We wanted to get her out of there."
Officials from the Augusta Township Fire Department and the Department of Natural Resources called in a boat, but while it was en route, commandeered a canoe from a local residence, Music said.
They retrieved first the woman in the canoe and then the bundle of mail, which was left with her supervisor and delivered later that day.
"Her biggest concern was the mail," Music said.
John Counts covers cops and courts for AnnArbor.com. He can be reached at johncounts@annarbor.com or you can follow him on Twitter.