Autopsy complete, but officials waiting for test results to confirm Nathan Tracy's death
Posted on Mon, Sep 10, 2012 : 2:53 p.m.
The autopsy on a man preliminarily identified as missing Trenton teenager Nathan Tracy is complete, but officials are waiting for dental records to confirm his identity.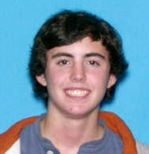 Washtenaw County Chief Medical Examiner Dr. Jeff Jentzen said Monday said the body found in a Pittsfield Township pond Saturday morning has been preliminarily identified as 19-year-old Nathan Tracy. The teen was last seen at 11:30 p.m. Wednesday on Ranchero Drive near Oak Valley Drive.
Jentzen said the official cause of death, and any injuries Tracy may have suffered when the Ford Focus he was driving went off the road and crashed into the back of a parked truck, will be released after drug tests are done on his body.
"We are, at this point, still waiting to scientifically confirm his identification with dental comparisons," Jentzen said. "The autopsy is completed pending drug testing and additional studies."
Those tests could be done in a few days or it could take about two weeks, Jentzen said.
According to police, Tracy crashed into a truck parked in a car port Wednesday night, briefly spoke with a witness and then disappeared. On Friday, his family made an impassioned plea for him to come home.
Police stated Monday they would not speculate on any role drugs or alcohol played in the crash. That will come out in the toxicology report, according to officials.
Police and dozens of other people searched for Tracy in the area around the crash Friday afternoon and into the evening. The search included a Michigan State Police helicopter and search dogs. Late Friday evening, there was hope Tracy was simply too afraid to get in contact with family members as police dogs picked up a scent trail heading toward Ann Arbor.
At 10:38 a.m. Saturday, a maintenance worker at Weatherstone Condos on Oak Valley drive reported finding a person in a retention pond near the entrance to the complex. After a few hours of investigation, police told Tracy's family they believed they had found his body.
Tracy was a second-year engineering student at Henry Ford Community College. He had driven to Ann Arbor to see friends following a family dinner on Wednesday. His mother, Mischelle Tracy, described him as "a very social kid with lots of friends" when she spoke to AnnArbor.com on Friday.