Posted on
Wed, Oct 19, 2011 : 4:55 p.m.
Experts want stronger message: Babies need to sleep on their backs and alone
By Juliana Keeping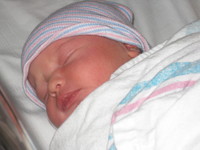 A renewed call to encourage putting babies to sleep on their backs and discourage co-sleeping were among the solutions suggested by a panel of doctor-academics at a statewide
summit
in Ypsilanti called to curtail infant mortality in Michigan.
The causes of infant mortality are complicated. Participants in this week's summit heard data involving issues like race, access to healthy foods, access to health care, education levels and other factors.
"A lot of those problems are more difficult to tackle. You can't just change the community overnight," said University of Michigan Dr. Timothy Johnson, department chair of the department of obstetrics and gynecology at the University of Michigan.
Sometimes, it's simpler than that. Both the American Academy of Pediatrics and the National Institute of Child Health and Human Development link unexplained infant deaths - part of the infant mortality rate - to babies sleeping on their stomachs. Both groups recommend back sleeping, and recommend against practices like co-sleeping.
That's why the panel, which included Johnson, suggested that Michigan pursue a renewed educational campaign to end co-sleeping and encourage back sleeping among infants.
The most recent state data shows 881 infants born in Michigan died before their 1st birthday in 2009, including 21 in Washtenaw County, said Susan Cerniglia, a health educator for the Washtenaw County Public Health Department. About 107 Michigan babies died in 2009 due to Sudden Unexpected Infant Death or other causes; 57 of those babies suffocated while in bed with their parents, according to the Michigan Department of Community Health.
SUID encompasses deaths in babies under 1 year of age that occur for unknown causes, or are due to accidental suffocation or other reasons, according to the Centers for Disease Control and Prevention. Putting babies to sleep on their backs is considered a preventive tool.
The state MDCH in May appointed an 11-member team of doctor-academics to begin to address infant mortality.
The group asked itself, "What can have the greatest impact in the shortest amount of time?" said Dr. Valerie Parisi, the dean of the school of medicine at Wayne State University.
While "Back to Sleep" or "Safe Sleep" campaigns have been underway since the early 1990s, the panel recognizes that not everyone is getting the message.
There are racial disparities involving infant deaths when it comes to back-sleeping and bed-sharing, Parisi said. State data shows white mothers are more likely to put babies on their backs than black mothers, and that white mothers are less likely to co-sleep with their infant.
The disparity relates not just to SUID, but to total infant mortality statewide. According to the MDCH, the 2009 state infant mortality rate of 15.5 for black babies is three times higher than for white babies. The hope is addressing disparities in back sleeping and co-sleeping habits will help to close that gap.
"We have to all get on the same page," Parisi said.
An intervention, such as an educational campaign, should target populations whose infants are at a higher risk for death due to SUID in bed, Parisi said. Improvements could be made by integrating media and social media efforts and integrating safe sleep education into Michigan medical and nursing schools, she said.
Johnson said Mott Children's Hospital has comprehensive educational campaigns targeted at safe sleeping and back sleeping for babies.
"It's surprising how many related deaths still occur across the state from babies not sleeping in the appropriate place," he said.
Juliana Keeping covers general assignment and health and the environment for AnnArbor.com. Reach her at julianakeeping@annarbor.com or 734-623-2528. Follow Juliana Keeping on Twitter