Posted on
Thu, Dec 8, 2011 : 5:58 a.m.
Balanced calendar not off the table for Ann Arbor Public Schools
By Danielle Arndt
The Ann Arbor Public Schools Board of Education will reopen discussion on a proposal to enact a balanced calendar at two of its schools for the 2012-2013 academic year, following the winter break.
But the discussion about a version of year-round schooling may be more involved this time around.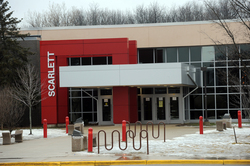 At Wednesday's Committee of the Whole meeting Trustee Christine Stead said she believes a more full-time class schedule is the only way to compete at a higher level with schools both nationally and globally. She was not alone in her sentiments.
The topic arose during a presentation on how the district would fare in March under the new cut scores for the Michigan Merit Exam (MME) and the Michigan Educational Assessment Program (MEAP) test.
"Here we are trying to align Michigan with the rest of the nation and I have to ask if the national standards are high enough?" Stead said, adding the United States lags behind a number of other countries academically.
"Frankly, I think we need a balanced calendar approach where the kids have more time in school. There is just not enough time in a day to slam in the best programs and have teachers collaborate."
She said she would be in favor of discussing the possibility of increasing the school year from 180 days to 200 or 220 district-wide, not only at Mitchell Elementary and Scarlett Middle School.
"I'm not saying, 'Kids, say good-bye to your Christmas vacation.' But I don't see a way to do this with just 180 days," Stead said.
The balanced calendar concept originally was wrapped into a proposal for a partnership among Mitchell, Scarlett and the University of Michigan's School of Education. It would have involved the two Ann Arbor schools beginning class in early August and ending in late June, with a six-week summer vacation instead of 12.
The lab school proposal, as it formerly was known, was introduced in 2010, but the balanced calendar was dropped from the plan for 2011-2012 amid parent concerns and planning issues. In September, the partnership moved forward without it and the Mitchell-Scarlett Teaching and Learning Collaboration (TLC) was born.
BOE President Deb Mexicotte said there are so many unanswered questions with the full-time calendar, such as whether it will be optional or mandatory, a permanent or pilot program, how to handle summer sports camps and extracurriculars and parents with students at different buildings and on different schedules.
"One of the concerns that came up is if it's good enough for Scarlett why is it not good enough for the rest of district?" Mexicotte said. "As the board is aware, there are a number of issues surrounding this that we will get to discuss again and will have to figure out."
Another huge obstacle obviously is cost, she continued. Ann Arbor already is facing about a $14-million budget deficit heading into the planning process for 2012-2013.
Liz Margolis, director of communications for Ann Arbor Public Schools, said talk on the balanced calendar will resume after administrators observe the interest in intersessions being offered at Scarlett and Mitchell over winter break. The intersessions are voluntary opportunities for additional learning, Margolis explained, that will be taught by U-M interns.
New Superintendent Patricia Green, who joined the district in July, has not taken a position yet on the balanced calendar concept.
"I'm still researching it, as we all are," she said. "It's too early in the game."
Staff reporter Danielle Arndt covers K-12 education for AnnArbor.com. Follow her on Twitter @DanielleArndt or email her at daniellearndt@annarbor.com.