Posted on
Wed, Feb 17, 2010 : 6:10 a.m.
Ban on using cell phones while driving in Ann Arbor gets initial approval from City Council
By Ryan J. Stanton
Getting caught talking - or texting - on your cell phone while driving in Ann Arbor could soon cost you $125.
After months of consideration, Ann Arbor officials are moving forward with efforts to implement a citywide ban on using cell phones and similar devices while driving.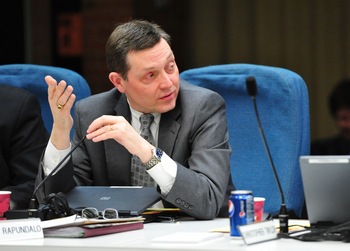 Ryan J. Stanton | AnnArbor.com
The much-debated issue resurfaced at Tuesday night's Ann Arbor City Council meeting when council members passed a first reading of a new city ordinance.
"This is a major public safety issue, and I think we've all experienced at one time or another while driving, seeing somebody else who wasn't paying attention because of their (cell phone)," said Council Member Stephen Rapundalo, D-2nd Ward. "So the time has come to do this."
Rapundalo is sponsoring the ordinance, which also prohibits using a cell phone or other device while riding a bicycle.
The ordinance bans motorists and bicyclists in Ann Arbor from using "any device" to do any of the following:
Talk to or listen to another person.
Create, send, transmit, read or listen to a text message, verbal message, oral message or electronic message.
Leave a recorded message.
Create, send, transmit, review, read a map or other image, whether or not the image or map includes or is accompanied by written or oral messages.
Use the Internet.
The ordinance bans any devices that can be used to perform any of the above functions, including but not limited to:
Any object commonly known as a mobile, wireless, cellular, cell, analog, or digital telephone or phone.
Any type of computer.
Any instrument used to obtain directions for a route to travel between two or more locations, or used to obtain other information related to locations along a route of travel, including but not limited to any equipment commonly known as a global positioning system or GPS.
According to the ordinance, the ban doesn't apply to the above mentioned devices if the person is using them hands-free or during an emergency situation.
Police officers, firefighters and operators of emergency vehicles also are exempt from the ban.
In addition, the ordinance allows a person to use a cell phone or other device if he or she is stopped in a "legal place to park, stop, or stand a motor vehicle or bicycle."
A person who violates the ordinance is responsible for a civil infraction with a fine of $125. The fine goes up to $300 in a motor vehicle accident for which the defendant is found at fault by police.
The ordinance, which goes to council for second reading next month, will take effect 10 days following its legal publication.
Rapundalo pointed out seven states now have bans on using cell phones while driving, and several local communities across the country have restrictions on cell phone use, including Detroit.
"Drivers who use cell phones while driving have a four time greater chance that they are going to get involved in an accident," Rapundalo said, adding cell phone use while driving contributes to 6 percent of all accidents.
"There are those who've said, 'What's the difference between the use of cell phones while driving and turning on the radio and messing with your rear view mirror and things like that?'" he said. "But there actually have been studies in this regard as well and it's kind of interesting that reaction times by cell phone users while driving deteriorated by 35 percent, and by comparison, there was only a 12 percent deterioration by those who had drunk alcohol to the legal limit."
Council Member Marcia Higgins, D-4th Ward, wondered how the city's cell phone ban would play out with pending state legislation.
Mayor John Hieftje cautioned council members to avoid relying on the state to solve the problem.
"If anyone had the idea of waiting for the state to do something on this, all we have to do is take a look at what happened with smoking," Hieftje said.
Ryan J. Stanton covers government for AnnArbor.com. Reach him at ryanstanton@annarbor.com or 734-623-2529.