Posted on
Fri, Feb 24, 2012 : 5:58 a.m.
Obama triples Romney in Ann Arbor area campaign donations
By Nathan Bomey
Ann Arbor area political donors have given $307,752 to U.S. presidential candidates during the 2012 campaign — but about 90.6 percent has gone to President Barack Obama, former Massachusetts Gov. Mitt Romney and U.S. Rep. Ron Paul.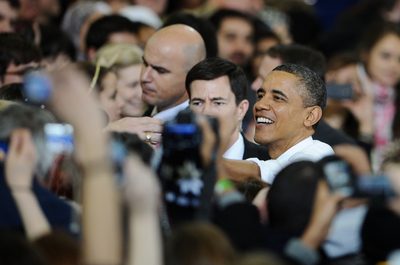 Melanie Maxwell I AnnArbor.com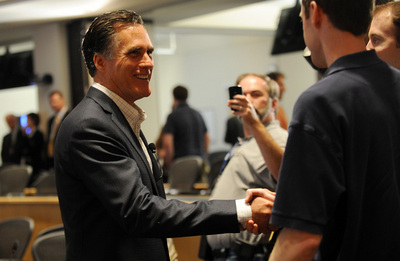 Melanie Maxwell | AnnArbor.com
The rest of the field is trailing badly in fundraising — including former U.S. Sen.
Rick Santorum
, who enjoys a slight edge over Romney in the polls for
Tuesday's Michigan's GOP primary
.
Statewide, Romney had raised $1.576 million as of Feb. 13, edging Obama, who had raised $956,998, according to Federal Election Commission records sorted by the Center for Responsive Politics and analyzed by AnnArbor.com.
No Ann Arbor area donors have contributed to the presidential candidate's main Super Political Action Committees (PAC), which are operated independently of the official campaigns and are not subject to individual donor limits.
Here are five facts about Ann Arbor area political giving to presidential candidates:
1. Obama has raised $195,199 from local donors. That includes at least $36,152 from University of Michigan employees. U-M donors have given $5,000 to Romney and $1,402 to Paul.
2. Romney has raised $62,750 from local donors, tripling Paul's total of $20,969. Former U.S. Speaker of the House Newt Gingrich has raised $3,470 from local donors.
3. About 55 percent of Romney's local fundraising comes from 11 Washtenaw County residents, including three family members who have each given the maximum of $2,500 for the primary and $2,500 for the general election. About 38.4 percent of Obama's local fundraising comes from 38 individual donors.
4. Although Santorum enjoys a slight lead in several Michigan GOP primary polls, he's gotten virtually no financial support from Ann Arbor area residents. Santorum had raised $950 from local donors as of Feb. 13.
5. Candidates who have already dropped out of the campaign raised about $24,414 before exiting the race. That included $8,464 for pizza company executive Herman Cain, $5,700 for U.S. Rep. Michele Bachmann and $3,500 for Texas Gov. Rick Perry.
Contact AnnArbor.com's Nathan Bomey at (734) 623-2587 or nathanbomey@annarbor.com. You can also follow him on Twitter or subscribe to AnnArbor.com's newsletters.