Posted on
Sat, Jul 28, 2012 : 5:59 a.m.
Basketball tournament keeps kids out of trouble in the high-crime MacArthur Boulevard area
By John Counts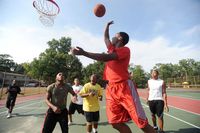 The three guys were tired, but they had won and were ready for another game of hoops.
Abraham Mutahr, 19, Tim Robinson, 17, and Chris Johnson, 18, all of Ypsilanti, sat in a semi-circle on the tennis-turned-basketball court on Stamford Road off of MacAruthur Boulevard in Superior Township Wednesday after their first victory in the three-on-three weekly basketball tournament Ballin' on the Boulevard.
The guys are serious ballers who come to the eight-week basketball tournament series sponsored by the Washtenaw County Sheriff's Office looking for some good competition.
For them and the 60 or so kids crisscrossing the court behind them in the heat of a basketball battle, it's all about the game. For the sheriff's office, it's about giving kids something to do during the summer.
Mutahr admitted the weekly tournament keeps him out of trouble.
"It's a good thing for people who don't have anyplace else to go play basketball," he said.
Now in its fourth year, Ballin' on the Boulevard is more popular than ever in the high-crime area. The sheriff's office frequently is called out to MacArthur Boulevard.
"The community is isolated," said Natalia Harris, a community outreach coordinator for the sheriff's office. "There's really not much to do. There's no community center. There are a lot of complaints from the residents for shots fired. There are always shootings. A lot of break-ins."
Along with West Willow, the south side of Ypsilanti and Scio Farms in Ann Arbor, the sheriff's office has targeted the MacArthur Boulevard area for community outreach programs like the basketball tournament. There also are groups like Young Women Making Washtenaw County Better, which had a table set up on the tennis courts Wednesday. Girls who drifted over to the basketball event could make headbands and bracelets.
In 2008, the sheriff's office received a $160,000 federal justice assistance grant for community improvement programs. There have since been several other financial allocations, according to Harris.
"We have enough money to fund the program for several years," she said.
The program has hired three people part-time who have either been in jail or arrested, but are now living more positive lives. They try to reach kids and others in the community.
"We started an outreach that allows us to hire people who have criminal history within the sheriff's office to be liaisons between us and the community to help build some relationships in communities where the sheriff's office has not always had a positive relationship previously," Harris said. "The outreach grant was written to help reduce recidivism."
The community outreach program also continues to help out with the basketball programs.
Nine years ago, Derrick Jackson, the community engagement director for the sheriff's office, started Ballin' in the Willows. Due to its success, it now has been replicated not only on MacAruthur Boulevard, but also on Ypsilanti's south side.
While the sheriff's office still provides a car, a radio and ice, most of the organizational duties are being passed along to members of the community like Harold Wimberly, youth pastor at Christian Love Fellowship Church, who has been working with kids in the MacArthur Boulevard area for 25 years.
This year, he's taken over Ballin' on the Boulevard.
"It's been going great. We've been averaging about 70 to 75 kids over here," he said.
Ballin' is a weekly three-on-three basketball tournament. At the end of the eight weeks, they have Best of the Boulevard.
"If we don't (give them something to do), we're going to have a lot of chaos in the community," Wimberly said. "When teenagers are bored, they find something to relieve the boredom."
The players get to form their own teams, keep their own scores and even call their own fouls.
"A lot of these kids out here, they might not always get along, but they respect each other on the court," Harris said. "We use that as a platform to encourage positive social interaction. When they leave the court, hopefully that same camaraderie stands out in the community."
Mutahr, Robinson and Johnson started their team because all are friends from the same Ypsilanti neighborhood.
They stretched on the ground, gearing up for their second game Wednesday. According to them, the competition here is pretty good.
"We've had our ups and downs, won a few games, lost a few games," Robinson said. "It's a pretty good experience. I think everyone should be able to try it out."
Ballin' on the Boulevard starts every Wednesday at 5 p.m. at the tennis courts on Stamford.