Posted on
Mon, Jul 9, 2012 : 5:56 a.m.
Bee aware: Ypsilanti Food Co-op supports The Local Honey Project as a way to stem the decline of honeybees
By Janet Miller
Janet Miller | For AnnArbor.com
Two years ago,
Corinne Sikorski
, general manager of the
Ypsilanti Food Co-op
, had a honey of an idea: Establish a series of beehives that would generate local honey to stock co-op shelves while working to revive the declining honeybee population.
Since then, Lisa Bashert, beekeeper, co-op member and manager of The Local Honey Project, has been as busy as a bee: She has single-handedly captured a giant swarm of honeybees as it moved through Frog Island, seen 80 percent of the project's honeybees die the first year and (yes) been stung more than a dozen times.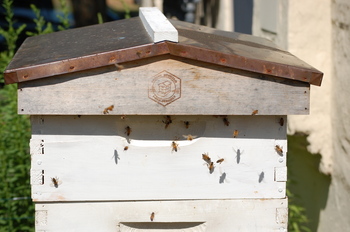 Janet Miller | For AnnArbor.com
While there have been setbacks - beekeeping can be a fragile and frustrating art - the Local Honey Project hives are growing stronger. The project is on course to meet its goals: to eventually provide organic, locally produced honey; help stem the loss of honeybees by producing resilient native Michigan bees; train an army of new beekeepers and educate the public about the importance of honeybees in the food system.
The Local Honey Project has become an open classroom to explain food issues, sustainability, threats to honeybees and the environment, Bashert said.
Bashert favors the term honeybee as opposed to simply bee to (ahem) take the sting out of the word. Bees get a bad rap, she said, and are often mistaken for the more ferocious wasp. "People relate bees to anything that stings," she said. "Honeybee is positive, it gives people a warm, fuzzy feeling."
The Local Honey Project has five urban hives - two in Honeybee Alley next to the food co-op in Ypsilanti's Depot Town, two at The Farm at St. Joseph Mercy Health System and one at the Ypsilanti non-profit Growing Hope. Typically, there are about 60,000 bees in a hive. Many of the bees for The Local Honey Project have connections to the food co-op: Some of the hives were established using bees that had set up shop inside a co-op wall. About 12 volunteers work with the hives.
While the project's hives suffered an 80 percent loss the first year, a figure not surprising for new hives, Bashert said, losses dropped to 40 percent this year. The hives have been supplemented with swarms of captured bees and feral bees, including a giant swam of about 20,000 bees Bashert captured at Frog Island last summer. "Bees are in their most benign state when they are swarming. They are full of honey, they have no brood or home to defend and they are vulnerable," she said.
The hives are expected to eventually produce 45 pounds of organic honey each, but that won't happen this season. "We want them to get up and healthy before we start stealing their honey," Bashert said.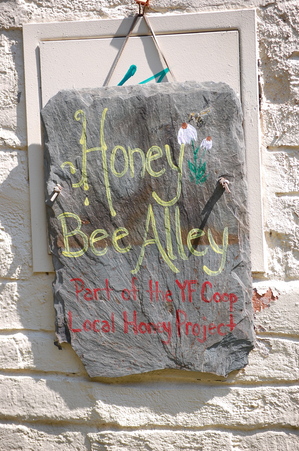 Janet Miller | For AnnArbor.com
Honeybees have been on the decline around the country.
Colony collapse disorder
has seen the honeybee population drop about 35 percent each year over the past three or four years. Losses in Michigan are even higher, Bashert said, ranging around 60 percent, although the warm winter saw smaller losses nationally and in Michigan. There are several suspected reasons for colony collapse disorder, including the use of pesticides, parasitic mites and diseases and nutrition problems.
The Local Honey Project will produce queens (most hives have a single queen, but about 20 percent have two queens) and bees to start local hives. Bees shipped from warmer states such as Texas and Georgia are not as hardy as homegrown bees, Bashert said, and die at a higher rate. They are also treated with chemicals in order to make the mail order journey and arrive stressed. It's another example of buying local being better, she said. "It can become an entrepreneurial venture where we supply queens and bees."
Bashert was behind the city of Ypsilanti adopting an ordinance that allows homeowners to keep up to two hives in their backyards after one of Bashert's Normal Park neighbor had complained about her hive. She launched a campaign to make city beekeeping legal, which was approved in late 2009.
While the Local Honey Project is about growing the Michigan bee population and producing organic honey, it's also about education, Bashert said, such as the presentations she's made at the two Ann Arbor Whole Foods Markets. Honeybees pollinate about one-third of what we eat, she said. "They are little, but they are very important piece of our food system."