Posted on
Tue, Jul 27, 2010 : 9:23 p.m.
Beekeeper attacked by 'overly aggressive' bees; firefighters use 750 gallons of water to disperse them
By Amalie Nash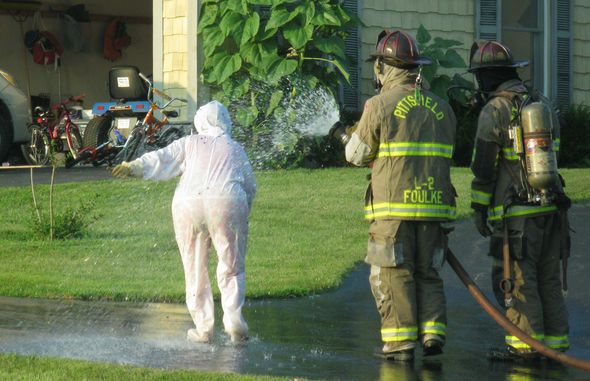 Photo courtesy of the Pittsfield Township Fire Department
A beekeeper was stung about 50 times when a swarm of approximately 1,000 bees attacked her in the driveway of her Pittsfield Township home this evening.
Pittsfield Township firefighters used 750 gallons of water to disperse the colony of bees after the woman called for help.
The woman, who lives in the 7400 block of Fosdick Road, called to a family member to get help at about 7:30 p.m., said Fire Captain Greg Payeur.
When firefighters arrived, the woman - dressed in a bee suit - was surrounded by a swarm of "overly aggressive bees," a press release said.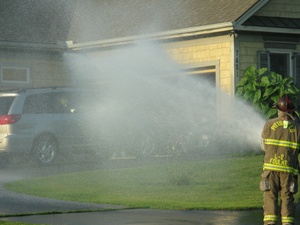 Photo courtesy of the Pittsfield Township Fire Department
She was using a garden hose in an attempt to disperse the bees, but was having no success. Firefighters donned full fire gear, including airpacks, to protect themselves from the bees, the release said.
"The bees were bouncing off our masks and our helmets," Payeur said. "When we initially got there, it was like a black cloud hanging over her."
Firefighters used water from a fire hose to create a wall between them and the bees, then flooded the beekeeper with water, Payeur said. The beekeeper directed firefighters to spray water into the air so it rained down on the bees, which don't like rain, Payeur said.
"When we saw her using the hose, we decided it was probably the best method for dispersing them," Payeur said. "We just flooded her until the bees started to disperse."
The woman was able to run into her garage, get out of the bee suit and run into her home, Payeur said.
The woman, who has bees to harvest honey, told firefighters she was tending to the queen when the colony of bees became disturbed and began attacking her. She was unable to escape the swarm of bees using normal methods.
Despite being stung approximately 50 times on her feet and legs, she declined to be transported to the hospital, Payeur said.
No firefighters were stung during the incident, which took about 30 minutes.
Photo courtesy of the Pittsfield Township Fire Department