Posted on
Fri, Jan 28, 2011 : 5:59 a.m.
Ann Arbor's Ben Yomen, cartoonist who stood 'In Labor's Corner,' dies at 99
By James Dickson
Ben Yomen Miller, a longtime Ann Arbor resident, cartoonist, and labor supporter, died Jan. 10 in his home at the age of 99.
Yomen's cartoons were featured in numerous publications over more than six decades — from the Detroit Free Press to Ebony Magazine — and for more than 200 union publications via the Federated Press.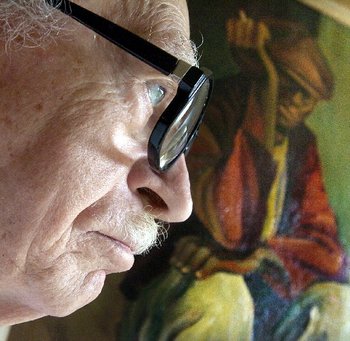 Ben Yomen is shown in this file photo.
Yomen used his cartoons not only to support the labor movement, for which he was a sympathizer, but to tweak people on the other side of the aisle.
His most famous creation might have been "Congressman Dripp," whom Yomen described in a 2006 Ann Arbor News feature as "a bumblehead...against labor and women's rights."
"Congressman Dripp" ran from 1943 to 1955 and was syndicated in some 200-plus union publications at one point, according to a fall 1999 profile on Yomen in Michigan Today.
Known in the cartoon world as Ben Yomen, his pen name, the artist and his son, Bob Miller, decided to self-publish a compilation of his works in 2005. Still available today through Amazon CreateSpace, the volume was titled "In Labor's Corner," which is where Yomen found himself throughout his career.
"In Labor's Corner" featured Yomen's work from the 1940s as well as his later, racial integration-related work from 1969. Yomen had also published an anthology, "Needles and Pins," in 1941 and another, "Roberto, the Mexican boy," a children's book, in 1947.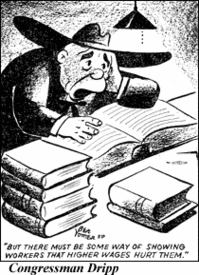 The cartoonist took an interest in the labor movement after being arrested at the so-called "Ford Hunger March" of 1932. Yomen had shown up to sketch the protest, but between the deaths of five laborers and the arrest, he developed a lifelong sympathy for the labor movement.
Another experience during a visit down South gave Yomen a sympathy for the struggles of blacks. While in town to see relatives, Yomen took a trip to the "other side of the tracks" and soon found himself conversing with and sketching a young black man. The cops showed up and told Yomen to move along. The young man became the centerpiece for Yomen's 1939 painting "Unemployed."
In Yomen's later years, he expressed concern with the outsourcing of labor. As he said in the 2006 profile, "If the jobs leave the country, where are you?"
Yomen is survived by his wife, Rose, who is 99. She and Ben never left their apartment in town, which is not in senior housing — living around old people can be a drag, she said.
Rose, a University of Michigan alum from the class of 1932, met Ben Yomen at a mutual friend's party in Detroit when they were 24 and 23, respectively. They were married in 1935, celebrating their Diamond Anniversary — 75 years — in 2010.
"We lived a simple life," Rose said of her and Ben's longevity.
Ben hadn't been published for a while but never stopped drawing, said his son, Bob Miller.
Yomen's website is still up and can be found at http://benyomenlaborcartoons.com/.
For people who prefer the real thing, a collection of Yomen's works can be found at the University of Michigan's Labadie Special Collections Library.
A memorial service is not yet planned, but a remembrance of some sort will likely be held in March, Bob said.
Ben Yomen Miller is survived by wife Rose (Rosenfeld), sons Bob Miller (Sherry) of Grand Blanc, George Miller (Margaret) of Canton, Ohio, grandsons Kevin Miller, of Phoenix, Jeff Miller (Andrea) of Flint and great granddaughters Kaitlynn and Jayla Miller of Flint.
James David Dickson can be JamesDickson@AnnArbor.com.