Posted on
Sat, Nov 19, 2011 : 6:18 p.m.
As I-94 accident victims' recovery continues, benefit concert will feature an unexpected performer
By Lisa Carolin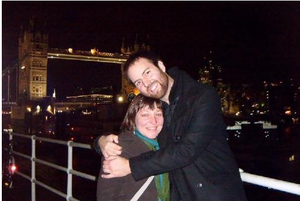 Courtesy photo
It has been a long journey back from devastating injuries for
Alicia Doudna
and
Andrew Kratzat
, two local musicians who were
critically hurt July 26 in an automobile accident
on I-94 in Jackson County. Kratzat, who turned 27 on that day, and Doudna, 31, were both flown by emergency helicopters to University of Michigan Hospital and were hospitalized for months.
But in what her mom is calling a miracle, Doudna will be playing the violin this Tuesday, Nov. 22, at a benefit concert for the couple at the Kerrytown Concert House.
"She has made amazing progress," said Cheryl Doudna, who lives in Wisconsin but moved to Ann Arbor with her husband, Gary, to help Alicia with her recovery. "Alicia was discharged from the hospital October 21 and is walking and talking."
Both Doudna and Kratzat suffered traumatic brain injuries and spent their first weeks in the hospital in comas. Kratzat was transferred to St. Joseph Mercy Hospital for rehabilitation and is still there.
"We are guardedly optimistic and we're seeing a little bit of progress every day," said Andrew's dad, John Kratzat, who has been commuting to Ann Arbor from his home in Fort Wayne, Ind., along with his wife, Andrew's mom, Janet Kratzat. "Both Andrew and Alicia have been blessed by their friends who have come to visit them on a regular basis to be there for them."
Alicia has been visiting Andrew twice a week. John Kratzat says that when Andrew and Alicia look at each other, they recognize something. But Cheryl Doudna says that Alicia doesn't remember Andrew.
"She knows that Andrew was a big part of her life, but she doesn't exactly remember him," said Cheryl Doudna. The couple is engaged and had made plans before the accident to get married in June 2012.
To help with their medical expenses, a chamber-music benefit is planned at the Kerrytown Concert House, Tuesday at 8 p.m. The concert house has special significance because that is where the couple first met performing in an ensemble as part of the annual Edgefest jazz festival. It is also where Doudna gave violin lessons for years in an upper-level studio space.
"Alicia was my teacher for five years and she was amazing," said former student Dana Johnson, who will be performing at Tuesday's concert along with other former students of Doudna's. "Her passion for teaching and music inspired me so much and ultimately made me want to pursue music professionally."
"Not a day goes by that we don't think about them," said Deanna Relyea, executive director of the concert house, who says that Doudna was very highly respected in the teaching community. "Alicia's students miss her a lot. We knew Alicia and Andrew quite well at the concert house."
Andrew Kratzat's dad says that music has been Andrew's life and that he has played bass with many groups. Andrew was offered a full scholarship for graduate school at the Peabody Institute at Johns Hopkins University. Andrew and Alicia had planned to move to Baltimore this fall and had their possessions shipped there. Their families had to pay for their possessions to be shipped back to Ann Arbor.
Despite the hardships, both the Kratzat and Doudna families are optimistic about Andrew and Alicia's recoveries.
"Andrew has been showing a lot of frustration the last few weeks, and that's good," said his dad, who says that Andrew has dozens of speech, occupational and physical therapy sessions every week. "He's still not able to communicate but is getting closer. He'll occasionally smile and wave goodbye."
"There's a lot of heartache and struggles and Alicia cries every day," said her mom. "You cannot predict what the brain is going to do. She can play Bach but she can't remember her fiance."
Both families acknowledge that they have long journeys ahead of them and many expenses.
Tickets for Tuesday's chamber music benefit at the concert house cost $15 for general admission and $10 for students. The program will include a performance of the Mendelssohn Octet. For more information, go to www.kerrytownconcerthouse.com/.