Ann Arbor diner cheers Michael Phelps in London Olympics: Swimmer 'a part of us'
Posted on Tue, Jul 31, 2012 : 2:34 p.m.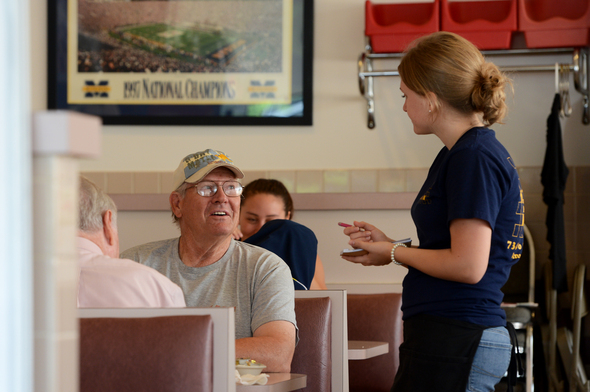 Melanie Maxwell I AnnArbor.com
Update: Michael Phelps swam this afternoon, but the races will not be aired in America until this evening on NBC. For a recap of Phelps' races click here.
While Michael Phelps is almost 4,000 miles away preparing for his attempt to break the record for most Olympic medals held by a single athlete, his favorite breakfast spot in Ann Arbor is cheering him on.
"Of course we follow him. I watch all of his Olympic races if I can," said Alice Luth, who has been a waitress at Benny's Family Dining for 12 years.
"In a way, he kind of represents a part of us, too."
The eyes of Benny's patrons and the world will be on former Ann Arbor resident Phelps Tuesday night as he swims in the finals of the 200 meter butterfly and possibly the 4x200 meter freestyle relay.
Many restaurants have photos or memorabilia from local sports teams and icons on the walls. But Benny's has built a rapport with Ann Arbor icons and the entire University of Michigan athletics establishment that truly goes above and beyond.
On a random Tuesday morning during the summer (when school is out and many athletes are not in town) there were two members of the U-M swim team and two women's basketball players having breakfast across the restaurant from each other.
"Coming here is just a swim team tradition," swimmer Kyle Whitaker, who was enjoying a #5 breakfast (two eggs, two bacon, two sausage, ham, and hashbrowns or grits) with a half stack of pancakes, said. ""It was passed down to us."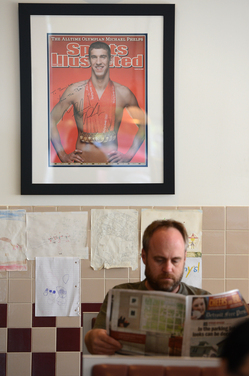 Melanie Maxwell I AnnArbor.com
"It's especially popular after Saturday practice. We love it here, it's great food and we can hang out and talk with the guys about the week ahead and upcoming meets," added fellow swimmer
Mike Wynalda
, who was enjoying a "Hungry Man" (three eggs, hashbrowns or grits, and five sausage or bacon or a generous portion of ham) with a half stack of French toast.
Their visits give the swimmers yet another connection to the Olympic athlete.
Yet even with their big appetites, they say their breakfasts pale in comparison to what Phelps used to order when he frequented the restaurant.
Whitaker and Wynalda both swam in the Olympic trials in Omaha in June and have been following team USA swimmers in London.
"We watched a lot of the prelims on TV, but we try to catch the finals online," Whitaker said.
"There's a little friendly rivalry between guys who train in different places, but almost always we're pulling for the Americans."
Whitaker swam against Phelps in the 400 meter individual medley at the trials, and said he has been racing against him since he was just 14 years old.
"I've beat him in different parts of different races, but never come out in front of him," he said.
"I like to think that I just keep getting closer every time. But his best in this Olympics is yet to come. He's got a great program coming up with some of his best events, and I think he'll be looking for a little revenge from Lochte."
Merle Foss and Harry Hawkins have been in Ann Arbor for a long time and come to Benny's almost every day for breakfast. Hawkins said he'd seen Phelps once, but knew that he was always in and out of the diner. Foss hasn't seen Phelps in person, but notices his presence all over.
"We've all read the article about him up on the wall," he said. "If you're going to the men's room you can't miss it."
They also have been following Phelps' progress since he made Ann Arbor his home and training center for the 2008 Beijing games.
Luth said that when the media started covering the restaurant during Phelps '08 run, business picked up a little, and there's been a renewed interest in the signed Sports Illustrated cover since the current games started last week.
"People will come in and wander around and look at our pictures," Luth said.
"We have a wide variety of sports people who come here and love to eat here. The football team comes a lot, Lloyd Carr still eats here, and Bo used to."
Hawkins and Foss say they see all of the teams come in, including the wrestling, volleyball, and lacrosse teams.
Benny's is located on S. Industrial Highway in the Colonial Lanes Plaza.