Posted on
Sat, Sep 25, 2010 : 6 a.m.
Bentley Historical Library celebrates 75 years as archive of state, University of Michigan
By James Dickson
Francis X. Blouin had never set a foot in Michigan until he was in the interview chair across from Robert M. Warner, then-director of the Bentley Historical Library, in 1974.
The University of Minnesota Ph.D. had started taking archival work while earning his history degree. The one-year appointment he was looking for would be a nice detour, perhaps until suitable teaching work could be found.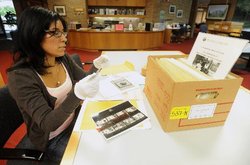 Angela J. Cesere | AnnArbor.com
Nearly 40 years later, Blouin is still at the University of Michigan, even though his Notre Dame roots can make football season a bit touch-and-go in Ann Arbor.
In 1981, he was named director of the Bentley, a title he has held ever since. He's been at the Bentley for roughly half of its 75 year history, and at the helm for almost a quarter of it.
Blouin, his colleagues, the university and the Ann Arbor Symphony Orchestra will celebrate the Bentley's 75th anniversary with a "Made in Michigan" concert at Hill Auditorium on Sunday. Fitting the "Made in Michigan" theme of the Bentley's 75th anniversary, the Ann Arbor-based artists will perform pieces written by Michigan composers. Even U-M President Mary Sue Coleman will be in the house.
"I was here for the 50th anniversary, when the theme was 'Documenting Michigan,' featuring the manuscripts of Michigan-based authors," Blouin explained. "For the 75th, we wanted something that would highlight the music of Michigan, much of which is in our archives," including the papers of composers like William Albright, William Bolcom and Joan Morris.
"Made in Michigan" — A Celebration of the Bentley Historical Library at 75
Who: The Ann Arbor Symphony Orchestra, Arie Lipsky, music director. With soloists William Bolcom and Joan Morris; Amy Porter, flute; and Steven Ball, organ.
What: Opening concert of the A2SO season, specifically highlighting the Great Lakes State.
Where: Hill Auditorium, 825 North University Avenue.
When: Sunday, September 26, 4 p.m.
How much: $10-$53, with discounts for students, seniors and groups and special offers for new season subscribers. Call the A2SO, 734-994-4801 or visit the A2SO website.
On Monday, the library plans on debuting its own "Made in Michigan" exhibit, featuring sheet music written by Michigan composers and insights on the state's historical music scene.
The Bentley Library has come along way from its earliest days as a basement archive. It didn't even have a proper, stand-alone home until 1972, when a bequest from Alvin and Arvella Bentley raised the bulk of the funds needed for the archives' new home.
There was a sense that the library's function and importance to the state outweighed its basement dwelling.
"Michigan has an historical society, but unlike in other states, it doesn't maintain an historical collection. Since 1935 that has fallen to the University of Michigan," Blouin said.
The archives started as a basement office in the Clements Library on South University. They were moved over to the basement of Rackham in 1939 when construction of the building was complete, and its stacks occupied the space under the auditorium.
By the time Blouin's predecessor, Warner, took the helm in 1966, he had one major goal: Build an independent facility for the archives. "There was a sense that it could not exist as a basement operation any longer," Blouin said.
The Bentley bequest allowed for that opportunity, and the library's history is almost neatly divided between two periods; 1935 to 1972, the basement years, and 1972 to present.
With Warner's mission accomplished — he also played a pivotal role in bringing the Gerald R. Ford Presidential Library to Ann Arbor, next door to the Bentley in fact, but that's a story for another day — he was hired away by President Jimmy Carter in 1980 to serve as only the sixth Archivist of the United States in American history, a post he held through April 1985.
When Blouin took over the director's post in 1981, he had a bit of a problem. The facility had already moved from the dungeons of Central Campus to its own facility on North Campus. More visibility had led to more interest, more bequests, more collections archived and, ultimately, more credibility. But what now?
Blouin decided to take advantage of the Bentley's new home by emphasizing its collections, turning the library into a true resource for teachers and students at U-M and in the local community. (The Bentley is open to the public.)
One of his chief resources in community outreach has been Karen Jania, head of reference, who acts as the liaison between educators, students and the Bentley, helping researchers from the high school level to grad students find value in its holdings.
Jania, who has been at the library since 1988, when she started as a part-time page, once dreamt of being a teacher but has found her niche as a facilitator these last two decades.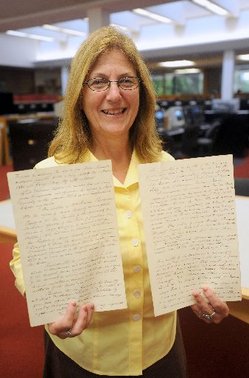 Angela J. Cesere | AnnArbor.com
"The archives can be intimidating when you first come in. Before you're looking at any materials, we've asked for ID, you've signed forms; it can be discouraging. We try to keep people back focused on the task at hand and get their research on the right path," she said.
The Bentley serves between 3,000 and 4,000 researchers a year, Jania said. Most hail from Michigan, some don't, but anyone and everyone is welcome at the archive, a 9-to-5 operation during the week, with a 9 a.m. to 12:30 p.m. Saturday shift during the school year.
"Sometimes a person will come in who has no specific interest, they just want to see what we've got," Jania said. "In that case, we'll show them the finding aids and some of the projects we've put together and let them start there. People are always amazed by what we have."
In addition to the Michigan Historical Collections and the University Archives, the Bentley also receives papers from every governor of Michigan, the U-M athletic department, and even some national figures with local ties, like Mike Wallace, former longtime CBS correspondent, whose collection comes with a total restriction on duplication of any sort.
Even local historians like Wystan Stevens and former Michigan Daily reporters like Rob Goodspeed (also founder of Goodspeed Update) have left materials behind, making the Bentley a go-to resource for Ann Arbor history as well.
The digital era and the problems of archives
The digital era, we are told, is going to change everything - if it hasn't, already.
Every two days of 2010 generate as much information as the year 2003, and the numbers only get bigger as you head into the pre-Internet era. This has major implications for the way archives like Bentley work.
"Some 12 million e-mails a day are generated through the University of Michigan e-mail system," Blouin said. 
Since every e-mail from every employee is fair game, the Bentley could theoretically employ full-time staffers just to decide which U-M e-mails should be saved for posterity and which ones should be thrown out. That won't happen, obviously, as budgeting and priorities would never allow it. As important as editing is to an archive, leveraging the internet is just as important.
"We only have so much space," Blouin said during a tour of the Bentley, which had an addition in 2004. "We can only fit so many boxes here - the overflow already goes out to the firehouse on North Campus. As much as possible, we'd like to eliminate print-outs and go the digital route with new materials," he said.
There is also the challenge of digitizing what's already been collected. "There will come a time when a lot of this will be online," Blouin said, but there are important differences between digitizing books, as Google is doing for the University Library System, and digitizing archives.
"It's important to digitize archives in a thoughtful way," he said. "Any one of these documents wouldn't mean much, but when you put enough pieces together, you've got a story. We have to think more in those terms as we go more digital."
It's a big and, of course, expensive job, but don't write it off as a possibility, Blouin said, even if the requisite time and the money are tough to come by at the moment.
"Things that I thought were crazy to talk about 10 years ago aren't so absurd anymore," Blouin said. "If the internet is going to change everything, we're going to change with it."
James David Dickson can be reached at JamesDickson@AnnArbor.com.