Better waiting area, private triage spaces on way to University of Michigan Hospital Emergency Department
Posted on Sun, Mar 20, 2011 : 5:51 a.m.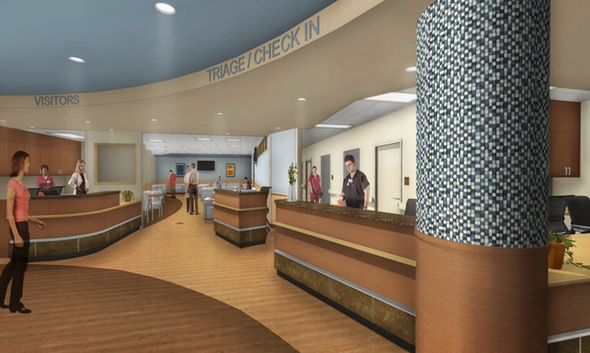 Courtesy of University of Michigan Health System
A private, expanded triage area and a larger, more comfortable waiting room is on the way to the Emergency Medicine Department at the University of Michigan Health System in April.
Currently, neither the check-in nor the nearby three-slot triage area offers much privacy from the existing waiting area. Instead of explaining what ails them within earshot of a waiting room, patients will meet with a nurse in one of six private triage rooms when renovations debut next month.
Recognizing that the ER experience was "less than desirable" for patients seeking urgent care, $17.7 million of improvements - not all of which have begun - started in January, said Jennifer Holmes, the director of operations for the emergency department.
"The first step was to improve the patient experience, starting at the front end," Holmes said.
Plans for expansion and improvements will help to shave an hour off of emergency room visits. Now, the average visit lasts five hours, though the department has already begun working to reduce wait times. Existing space constraints contribute to long, frustrating waits.
"We've just completely run out of room," Holmes said.
That's because visits to the emergency department are up, she said, and more patients than average are admitted to the hospital from the ER. Holmes said the uptick is due to a high number of referrals from other places because of diagnostic and other specialties available at UMHS.
"Our major goal is for the patient to be expedited through that initial process so they can see a physician within 30 to 45 minutes of their arrival," Holmes said. Now, that takes about an hour, although the most urgent cases are seen within seconds.
Improvements to children's emergency services are also on the way. The new C.S. Mott Children's Hospital, scheduled to open in November, will include a 30-bed emergency department for children. Currently, an 11-bed treatment area adjacent to the emergency department at UMHS serves children. The move will open up more space for adult emergency care services at the main hospital.
Other changes on the way include:
• A new entryway is the next piece to get under way, and a 27-bed unit in the emergency department's treatment area will be the last major piece of the 26,000-square-foot renovation and expansion project. The plan is to open the new rooms by December. Then, patients will no longer line the hallways on gurneys during busy times.
• Psychiatric Emergency Services will be redesigned and relocated within the emergency department, and the Med Inn building will be renovated to accommodate a new location for oral maxillofacial surgery and hospital dentistry, currently located adjacent to the emergency department.