Posted on
Sat, May 5, 2012 : 2:01 p.m.
Bicycle repair clinic offers family time in neighborhood setting
By Lisa Carolin
Saturday's bicycle repair clinic at University Town Houses Co-op had more to do with getting parents and kids together than just salvaging bicycles. That's the goal of B3, a community building organization led by resident Jonny Lennon.
The first bike repair clinic included real bicycle mechanics, recycled bikes and free helmets. Guests included members of the Ann Arbor Bicycle Touring Society, Sic Transit Cycles, Bike Ypsi, Common Cycle, Safe Kids Huron Valley, and Word of God Community.
"Last year I started pulling bikes out from the trash in my neighborhood," said Lennon. "I've been working with kids to fix the bikes and let them have the bikes when we're done."
Lennon says he is self-taught and has pooled resources like bike parts and tools with other residents to repair bikes.
"The main purpose of the B3 group is to get parents to do things with their kids," said Lennon, who is the father of four children under age 7. "With the B3 bicycle repair clinic, kids take ownership of the bicycles and their community."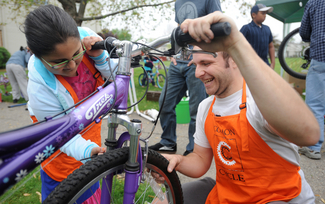 Angela J. Cesere | AnnArbor.com
His 6-year-old son Ian was learning how to repair his bicycle's brakes from Ben Schultz, a volunteer for
Common Cycle
, the local nonprofit that shows people how to fix bikes at the Artisan Market in
Kerrytown
every Sunday.
Five-year-old Zubair Alam was pleased to be part of repairing his bike.
"I held the bumper," he said, adding that the seat on his bike was loose.
"I learned to put air in the tires," said 6-year-old Izzaldeen Qareen as he coasted around on his bike.
His mom was happy to have the neighborhood gathering.
"It's great that they're doing this for the community," said Stella Hanley-Qareen. It's so generous."
Neighbor Mison Ilayan said, "How wonderful to get everyone together."
B3 has held a sledding party and a hammer and nail party and is planning a paper rocket party as well as a cleanup day where anyone who fills a bag can get an ice cream cone.
Lennon says that if kids don't have parents who can come to the events, they are still welcome.