Posted on
Thu, Apr 8, 2010 : 6:05 a.m.
Ann Arbor bicyclist's dilemma: Ride on the street or the sidewalk?
By John Garcia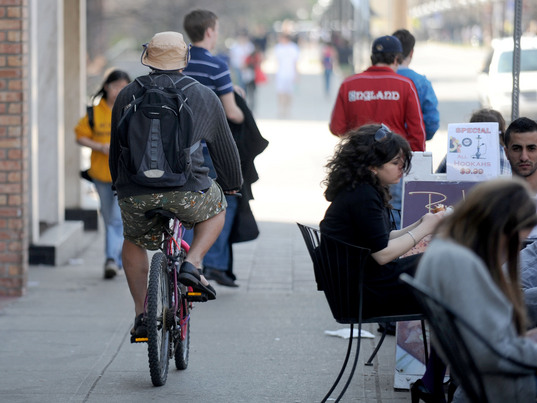 Angela J. Cesere | AnnArbor.com
Chris Marble rarely feels unsafe on his bike, but a recent Sunday was an exception.
Marble, a 71-year-old retired schoolteacher, was riding his bike on North Main Street in Ann Arbor. Suddenly, he was in heavy traffic from a University of Michigan basketball game.
"It wasn't that bad, but I wouldn't want to do it over and over again," Marble said. "The drivers were nice. ... I don't remember anybody cutting me close or blasting their horn or giving me the one finger peace sign."
Though Marble managed to safely navigate the traffic hazard, the result can be tragic when bikes and cars share the road. Two riders died last year in Washtenaw County when cars hit their bikes. And 96 bike riders were involved in crashes last year. It might be enough to make a bicyclist wonder whether riding on the sidewalk would be a safer bet than navigating the street.
Not usually, safety experts say.
"If you consult the Michigan Motor Vehicle Code, it says bicyclists shouldn't ride on the sidewalk. But it generally depends on who the bicyclist is, said Josh DeBruyn, the bicycle and pedestrian coordinator of the Michigan Department of Transportation. "Do you want your 6-year-old son riding on the road? Probably not ... there is no one answer."
DeBruyn said sidewalks have more intersections than roads, and drivers may not see bikers riding on the sidewalk as they approach an intersection.
"It's definitely safer in the street," said John Lindenmayer, the associate director of the League of Michigan Bicyclists. "On the sidewalk, every one of those curb cuts can cause an accident."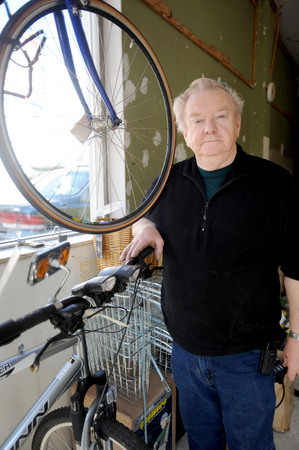 Angela J. Cesere | AnnArbor.com
Sidewalks can have a lot of uneven surfaces, he added. And drivers pulling in and out of driveways may not be looking on the sidewalk for quick-moving traffic. "You have a lot more room to maneuver in the road and you're more in sight of the cars ... . You're more predictable," Lindenmayer said.
It's legal for bikers to be ride in either the road or on the sidewalk in Ann Arbor, the Police Department said. But Bill Loy the owner of Campus Student Bikes, said bike lanes are the best way to go when they're available.
"Unless there is a big utility truck coming by it's pretty safe in the bike path. People seem to pay attention to it," Loy said. But Loy also said bikers would be wise to do other things to increase their visibility and safety.
"It's important to have a light on your bike," he said. "If they wear dark clothes, and it's misty rainy you can't see them."
Don Broadway, chairman of the board of directors for the Ann Arbor Bicycle Touring Society, which organizes daily bicycle rides, said bike lanes do afford riders more room and safety than roads without them, but he said they are often filled with debris this time of year.
"We're paying taxes and would be nice to see that taxpayer money out there to maintain the shoulders and the roadways," Broadway said. His groups try to choose roads with the best shoulders and lower traffic.
Carl Sundstrom a program specialist with the Pedestrian and Bicycle Information Center, which researches bicycle and pedestrian issues at the University of North Carolina, said research shows bike lanes increase safety, especially on higher speed roads.
"Cities that install bike lanes are seeing more cyclists and less of a crash rate," he said. "You may see an increase in the number of crashes (as more people ride bikes), but the crash rate is going down."
Marble said common sense goes a long way in keeping riders safe.
"Be visible, ride predictable and obey the road laws," he said. "Act like a driver. That seems to be the most sensible thing for a bicyclist to do and that's what I try to do when I'm out there. I don't try to put myself in unsafe situations."
John Garcia is a freelance writer for AnnArbor.com. Reach the news desk at news@annarbor.com or 734-623-2530.