Posted on
Mon, Nov 9, 2009 : 5:40 a.m.
Big sandals to fill as executive director departs Leslie Science and Nature Center
By James Dickson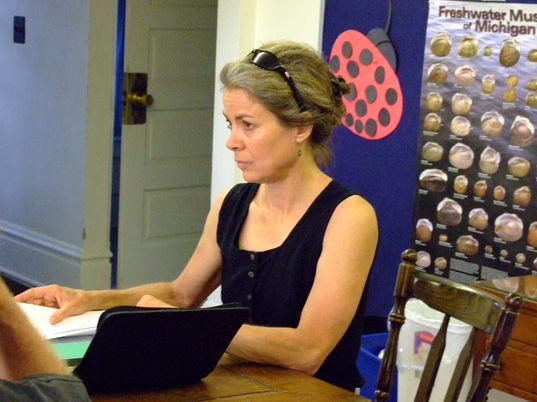 James Dickson | AnnArbor.com
Kirsten Levinsohn is the only executive director the Leslie Science and Nature Center has ever known.
But when her husband Jim leaves his professorship at the University of Michigan's Gerald R. Ford School of Public Policy for an opportunity at Yale University in March, Levinsohn is going with him. When she leaves, the center will have big sandals to fill - an effort that's already started.
In the beginning
Levinsohn recalls when she first came to the science center almost two decades ago, when only 121 visitors came through in her first year.
"I was pregnant at the time, so I could only work 10 hours a week," she said. "And a lot of that time was spent twiddling my thumbs until I could get an idea of what was going on."
When Levinsohn arrived in 1989, the center was better known for hosting weddings than educational programs. She wasn't immediately prepared to change that perception.
"There was virtually no programming at the time - when a school group would call, I'd have to scramble and call one of the five interns and see if they'd work. If they couldn't do it, I would," she said.
Along with the help of Cheryl Saam, now facilities manager at Gallup Park, Levinsohn built a curriculum, the staff to teach it, and a network of area teachers willing to use the center to supplement classroom instruction.
"It's always been a team approach," she said. "And it still is. I'll tell anyone that our staff is our biggest asset. I can't say that, on Day One, I had a vision of what this place would look like 20 years later."
A second-grade teacher for five years in Maryland and New Jersey, Levinsohn believed that the center had to have an educational focus. Programs had to be compelling enough to pull kids away from the television - a precursor of the challenge today, when nature has to compete with several forms of media to capture young peoples' attention.
Under Levinsohn's watch, the center has built a nature house, absorbed the adjacent Black Pond Woods, which was slated for development, and moved from city ownership to non-profit status.
"We had this beautiful building, adjacent to a pond and the woods," said Saam, who left to take the job at Gallup Park in 2001. "It was like a clean slate - what are we going to do to get people coming in? Kirsten was the perfect person to lead that effort."
Twenty years later, the question isn't what to do - the center has plenty of programming, not to mention longstanding relationships with many local educators - but rather how to take the popular science and nature center into the future.
Nowadays, more than 40,000 visitors, mostly school children on field trips, come to Leslie every year. The executive director oversees five full-time staffers, 10 part-timers, and about 30 volunteers at any given time.
A late September meeting of the center's succession committee revealed a number of criterion to judge applicants for the position - leadership, experience managing budgets, organizational skills. But the most important appears to be social range.
The executive director needs to be able to deal effectively with grant foundations, the center's board of directors and staffers - not to mention parents, children and teachers. A bookworm won't do, and the center already has an accountant.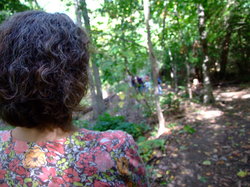 James Dickson | AnnArbor.com
What makes Leslie tick
Levinsohn has made a point of divorcing herself from the succession process. She doesn't want the committee to feel hesitant about hiring a candidate who brings a different skill set or leadership style to the table.
But Levinsohn isn't shy about saying what makes the center work and why it's enjoyed the growth it has over the last two decades.
"Our programs are very standard, but the differences come in the individual specialties of staff members," she explained. "If, for instance, I tell someone who specializes in rocks that they can't talk about what they love, I hinder that person's ability to do their job."
The succession committe's job is to hire someone who can navigate the future while furthering the center's most basic mission: to introduce young people to the treasures found in nature.
"Exposure to the outdoors is a wonderful part of growing up," she said. "All it takes is one person to introduce a kid to the woods to build a lifelong love for nature. We want to be those people."
Levinsohn cites research that says kids who spend time in nature have lower rates of obesity and fewer attention-deficit issues.
"Kids today will be leaders tomorrow," Levinsohn said. "If we can get more of them to enjoy nature - to look at this and see a park, not a potential shopping mall - then we've done our jobs."
James David Dickson can be reached at JamesDickson@AnnArbor.com.