Posted on
Tue, Jun 22, 2010 : 9:18 a.m.
Bike ride from Ann Arbor to New York raises awareness for cancer treatment research
By Juliana Keeping
A 79-year-old philanthropist hopes a four-day bike ride that starts in Ann Arbor today will raise money and awareness for research that would make rounds of chemotherapy and radiation more bearable to cancer patients.
New York resident Gordon Gross will embark on the 315-mile ride from the University of Michigan's North Campus, destined for Roswell Park Cancer Institute in Buffalo, New York. The journey aims to highlight research on selenium and cancer treatments being done in both places.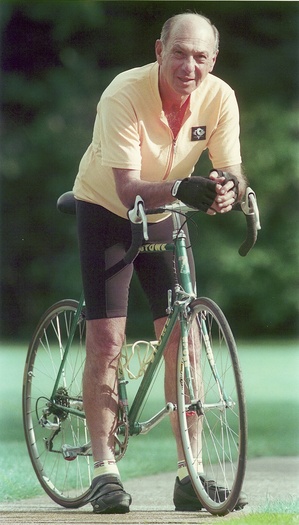 Photo courtesy of Gordon Gross
Sparking the journey is an ongoing study on the impact of selenium when used in conjunction with radiation and chemotherapy. Human trials have begun at a number of cancer centers and will begin at the VA Hospital in Ann Arbor under the auspices of a U-M researcher. Gross has raised $36,000 for his cause so far, with the ultimate goal of raising $50,000.
"It's a good feeling being able to help others," Gross said.
Gross' brother died of stomach cancer a decade ago, he said. Selenium in conjunction with the chemotherapy that was keeping his brother alive may have helped to prolong his life - and kept him more comfortable as he fought the cancer, Gross said.
The study started at the Roswell Park Cancer Institute, for which Gross previously served on the board of directors. The Ride for Roswell is an annual fundraiser for the cancer research institute.
Nithya Ramnath, an associate professor of medicine at the U-M Comprehensive Cancer Center since 2008, formerly worked on the study at Roswell Park and continued it in her role at U-M.
The small human trial of about 50 individuals is ongoing at several cancer centers and includes stage 3 lung cancer patients. Selinium may reduce the toxicity of cancer treatment and assuage side effects such as inflammation of the esophagus and lung, Ramnath said.
Gross, who plays tennis and golfs to stay in shape, will ride with his son-in-law and was expected to begin the journey at 5:30 a.m.
Juliana Keeping covers higher education for AnnArbor.com. Reach her at julianakeeping@annarbor.com or 734-623-2528. Follow Juliana Keeping on Twitter