Posted on
Wed, Sep 15, 2010 : 6 a.m.
Protester Bill Riney vows to fight charges, calls himself 'political prisoner'
By Heather Lockwood
Bill Riney, an Ypsilanti Township man who climbed onto the Washtenaw County Administration Building in a one-man protest on Labor Day, says he considers himself a "political prisoner."
Now criminally charged with three misdemeanors, Riney says he spent four days in jail because police wouldn't give him his wallet, which would have allowed him to bail himself out.
"On many occasions (police) promised me they would get (my wallet) out of evidence and the days ticked by," he said. "My family member finally came and bailed me out ... they released me Thursday at 9 p.m."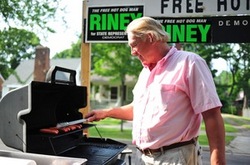 Derrick Jackson, a spokesman for the Washtenaw County Sheriff's Department, could not confirm whether Riney had ever been promised his wallet by officers while he was in jail.
His understanding, Jackson said, was that Riney's "wallet was part of evidence" and therefore couldn't be retrieved.
"Maybe, potentially, someone thought the wallet was in property (at the jail)" and then realized it was part of evidence and it couldn't be accessed, Jackson said.
Riney said police confiscated his van, free hotdog stand, iPad, iPhone, wallet, Bible, laptop and prescription drugs, among other things. Many of the items were with him when he climbed to the top of the county building and refused to come down for about 13 hours, police said.
Riney said he doesn't know when he'll get his belongings back. He also said police wouldn't allow him to "talk to any reporters" during the time he was arrested and while he received medical treatment for chest pain.
"I would like to see my possessions given back to me immediately, and I'm looking forward to going to court on these charges," Riney said.
Riney was arraigned Sept. 9 on charges of attempted resisting and obstructing, punishable by up to one year in jail; trespassing, punishable by up to 30 days in jail; and disturbing the peace, punishable by up to 90 days in jail, Washtenaw County Chief Deputy Assistant Prosecutor Steve Hiller said.
Jackson said Riney "was treated just like any other inmate." He said it's standard procedure for an individual's possessions to be confiscated as evidence at the time of their arrest, and some or all of those items may be returned upon request.
"He has not been denied access to get any of his items back, or his van back, not that he's asked," Jackson said.
Riney said he did ask police for his things over the phone "several times," the first time being Friday.
"I was told they were being held for evidence and that I had to get in touch with a detective, and the detective never got back to me," he said.
Riney, who went on a five-day hunger strike that coincided with his protest and time spent in jail, said he believes the charges against him are "politically motivated."
"If politicians don't want to do anything for the people, they don't want Bill Riney to do anything for the people," he said.
Riney added, "They have also given me a ticket for peddling free hot dogs without a permit."
He said he began distributing free hot dogs to Ypsilanti area residents two years ago because he wanted to help "hungry people."
"I love and care for people and they're hungry," he said. "I've made a tremendous amount of difference."
Heather Lockwood is a reporter for AnnArbor.com, reach her at heatherlockwood@annarbor.com or follow her on Twitter.