Posted on
Mon, Oct 31, 2011 : 2:36 p.m.
Bill would require Michigan students to recite Pledge of Allegiance every day
By Cindy Heflin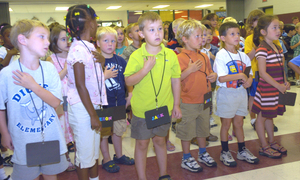 A bill introduced in the Michigan Senate would require every public school student in Michigan to recite the Pledge of Allegiance every day, the Grand Rapids Press
reported
.
The bill (SB 637), sponsored by state Sen. Roger Kahn, R-Saginaw, also requires school districts to purchase and display a United States flag for each school building in the district. The school board would be required to ensure the flag was displayed in each classroom in which pupils were required to recite the pledge.
Kahn's bill could be reported to the full Senate this week, the newspaper reported.