Posted on
Tue, Nov 1, 2011 : 2:50 p.m.
University of Michigan's new hospital improves birthing experience for mothers
By Kellie Woodhouse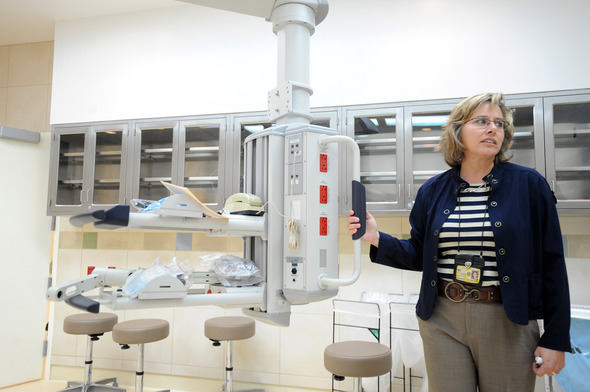 Angela J. Cesere | AnnArbor.com
Related story: A look inside the University of Michigan's new Mott Children's and Women's Hospital for the first time
Photo gallery: Images from the media tour of the new C.S. Mott Children's Hospital
When doctors are performing a tricky cesarean section at the University of Michigan Health System's new C.S. Mott Children's Hospital and Van Voigtlander Women's Hospital, they'll be able to carefully monitor the health of the fetus on a 42-inch flat screen TV in the operating room.
"Everybody can see what's going on," said physician Margaret Punch, associate director of ambulatory care services at the hospital.
The change is just one of dozens that will improve the birthing process at U-M, officials said Monday during a tour of the newly built $754 million, 1.1 million-square-foot facility, which is set to open Dec. 4.
The new birthing facility has four fully functional and state-of-the-art operating rooms, allowing doctors to perform complicated procedures within the ninth-floor women's hospital.
"With the old unit, we sometimes had to send patients with early (complications) to the adult emergency room," Punch explained.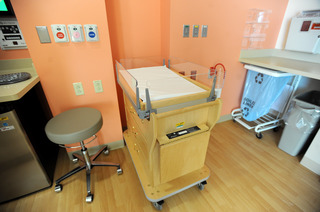 Angela J. Cesere | AnnArbor.com
Perhaps the biggest change, officials say, is a 60 percent increase in space. The new women's hospital will have 50 private rooms.
In the old facility, the hospital has 31 beds on the fourth floor, but high demand often forces women had to use overflow beds in the pediatric cancer unit on the seventh floor.
"We were so space constrained," Punch explained. "If we were busy, they'd have to share rooms. That will never happen again."
Each patient room is approximately 450 square feet and has a window with views of the Ann Arbor skyline or the Nichols Arboretum. The rooms have a private bathroom, recliner, couch and 42-inch flat screen TV. There are separate computers for nurse, physician and family use.
The operating rooms are, according to Punch, about 20 percent larger than previous operating rooms.
"These are… significantly larger," Punch said of the patient rooms. "Much more comfortable than what we had at our old facility."
The average stay at a birthing room is between 24 and 36 hours. If a cesarean section is needed, that stay is extended to between 48 and 72 hours, Punch said.
Mott has grown significantly since opening in 1969, making the expansion essential, hospital manager Pat Warner said. During its first year, Mott treated a total of 3,500 children— including births.
Last year, more than 3,800 babies were born at the hospital. About 20,000 children were admitted for care.
That rise is expected to continue in the new facility.
"We're planning on a 2 to 3 percent growth next year," Warner said.
In turn, the midwifery program at Mott is expanding to accommodate a growing natural birth trend.
"We have a strong midwifery population," said Loree Collett, associate hospital administrator, "and they have a strong birthing tub presence."
At the new facility, eight rooms have birthing tubs, compared to three tubs at the old unit. The tubs have a triangular shape, instead of the conventional rectangular shape, to increase flexibility and comfort, Punch said.
Dawn Bussey, an Ann Arbor-based birthing assistant who has helped facilitate several births at Mott, said the birthing tubs are often used by mothers in labor as a "coping mechanism."
At the old facility, birthing tubs were highly requested and difficult to come by, Bussey said.
"I had clients who were very disappointed because they didn't get a tub," she said. "Hydrotherapy is a huge, huge desire right now for women who are going into labor."
The Neonatal Intensive Care Unit is located a floor below the women's hospital. That unit has 46 private rooms that are 200 square feet apiece.
The close proximity of the NICU and birthing units allows families to stay close together if both the mother and child need treatment.
"It's unique for a women's hospital to be in a children's hospital," Collett said. "Keeping the two together is really effective."
Although Mott took five years to build, hospital officials are planning to move patients to the new facility in just 12 hours on Dec. 4.
Mothers in labor will be moved to the new hospital on a case-by-case basis.
"We'll be making personalized decisions," said Punch. Those decisions will be based on stage and duration of labor.
A woman admitted after 7 a.m. on Dec. 4 will give birth in the new facility, where they can visit a refurbished Big Bird on the way out.
Kellie Woodhouse covers higher education for AnnArbor.com. Reach her at kelliewoodhouse@annarbor.com or 734-623-4602 and follow her on twitter.