Posted on
Wed, Jan 2, 2013 : 1:37 p.m.
Bitter cold invades Ann Arbor; wind-chill values below zero expected
By Cindy Heflin
Anyone venturing outside in the Ann Arbor area Thursday would be wise to don a hat and gloves and a very warm coat before walking out the door.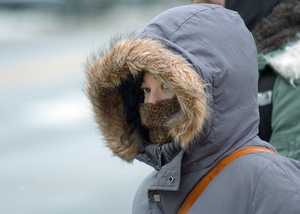 File photo
A brisk wind combined with below-freezing temperatures will push wind-chill values below zero, the National Weather Service
reported
.
After a low dipping to 11 degrees Wednesday night and wind-chill values around 3 degrees, temperatures will warm to about 27 Thursday, forecasters said, but a stiff wind blowing from the West and gusting to 21 mph will make it feel as cold as 2 below zero. The day also will bring a 30 percent chance for snow showers.
Thursday night, the low is expected to drop to around 17, under mostly cloudy skies. The wind will continue to blow with gusts as high as 20 mph and wind-chill values as low as 9 degrees.
Friday, skies will clear and the high is expected to climb to about 26, the National Weather Service said. But a west wind around 13 to 15 mph will keep wind-chill values around 5 degrees, Weather Underground reported.
Friday night, it will be partly cloudy, with a low around 17. Wind-chill values around 3 degrees are expected.
Skies are expected to be mostly sunny Saturday and partly sunny Sunday with highs in the low 30s, but wind-chill values are expected to remain in the single digits, according to Weather Underground's forecast.
For updated forecasts and weather conditions anytime, visit AnnArbor.com's weather page.