Posted on
Thu, May 6, 2010 : 4:22 p.m.
Black-only field trip that sparked controversy in Ann Arbor receives national media attention
By David Jesse
Marian Wallace is upset. So steamed, in fact, she had to take a walk to calm down after reading about Ann Arbor Dicken Elementary School's African-American Lunch Bunch.
"If this was a group of white students only going somewhere, everybody would be up in arms," she said. "It's not right. It's not legal. The district needs to fire the principal."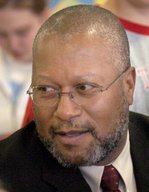 But unlike the Dicken parents and others in the Ann Arbor community debating the issue, Wallace has no ties. She doesn't even live in Michigan.
Wallace, who resides in Phoenix, is among many across the nation now weighing in on the issue, thanks in large part to a link to an AnnArbor.com story about the issue on the front page of the Drudge Report this morning. 
Since the story broke Monday, multiple regional and national media have reprinted stories, linked to AnnArbor.com or offered their own commentary.
Fox News posted a story this afternoon, and it's shown up on websites from the Detroit Free Press to the Michigan Sportsman online discussion forum.
Ann Arbor school district officials said they've been receiving a torrent of e-mails from across the country.
Most of the e-mails to the district and to AnnArbor.com are from people upset with the decision to take the Lunch Bunch, which consists of only black students, to hear a black rocket scientist at the University of Michigan speak.
The trip, and Principal Mike Madison's reaction to those students who stayed behind, have drawn fire from some Dicken parents. A parent meeting is scheduled for this evening with top district administrators.
District administrators are looking into whether the trip violated state law, as well as Madison's reaction afterward. They have said the group was formed as part of the district's effort to close the achievement gap between white and black students.
As the story has gained steam across the Internet, it has drawn plenty of criticism - but not all of it has been against Madison.
"I don't think he's getting a fair shake," said Ron Miller of Boston. "He was just trying to inspire students. Why that's bad, I don't know."
David Jesse covers K-12 education for AnnArbor.com. He can be reached at davidjesse@annarbor.com or at 734-623-2534.