Posted on
Wed, Jul 18, 2012 : 9:25 a.m.
Blake Transit Center project moves to Ann Arbor City Council for final review
By Ryan J. Stanton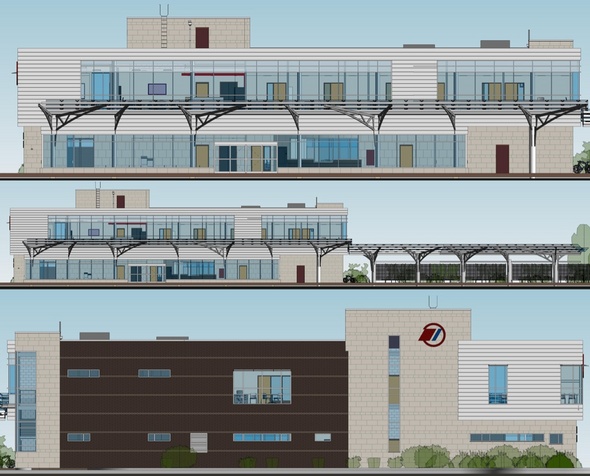 Courtesy of AATA
The
Ann Arbor Transportation Authority's
plans for a
new and improved Blake Transit Center
downtown are headed to the City Council for final review.
The city's Planning Commission voted 7-0 Tuesday night to sign off on the AATA's proposal to demolish the current one-story building at 331 S. Fourth Ave. and construct a two-story, 12,019-square-foot transit center in its place.
As a pubic entity, the AATA doesn't have to follow the normal process for site plan approval that's required of private developments. It's going through the process for review and input only, and the Planning Commission voted only to affirm the project meets private development standards with two exceptions: No interior landscaping is provided and 367 square feet normally would be required, and the drive approach width is about double what's allowed.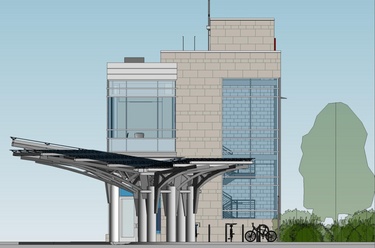 Courtesy of AATA
The current BTC stands 13 feet tall. The new transit center would be 29.3 feet tall, according to the plans reviewed by the Planning Commission.
"This will be an up-to-date, modern facility that will better accommodate our riders, improvements in technology, and better flow," said AATA CEO Michael Ford.
The building is being constructed so it can support third and fourth floors if desired in the future. It also will have a basement.
The project is expected to go before the City Council on Aug. 20. After the council's review, the AATA plans to break ground quickly, possibly in September or October.
"We want to continue to move forward," Ford told planning commissioners Tuesday night. "We want to get started in the fall and be done before Art Fair next year."
Ford said the AATA will be coordinating with the Downtown Development Authority, which recently opened a new underground parking garage across from the BTC, and the Ann Arbor District Library, which is hoping to demolish and rebuild the downtown library, to ensure there's minimal disruption as the new transit center is constructed.
"It's a great sign for our community that this investment is being made," said Planning Commissioner Kirk Westphal, who regularly uses AATA buses to get around town.
The new transit center will take shape at the southeast corner of the 0.4-acre site, a shift away from the northwest corner, with more of a connection to Fifth Avenue.
The two-story building will include space for a main customer service lobby, restrooms, offices for AATA and getDowntown staff, conference rooms, a staff break room, and a basement to accommodate storage and mechanical equipment. The plans also call for 16 bicycle parking spaces, which is double what's currently on the site.
Ford said more than 5,000 bus riders a day pass through the BTC, coming and going on somewhere around 40 buses an hour. AATA officials expect future frequency and ridership increases as they push for a countywide expansion of transit services.
"The AATA has outgrown the current Blake Transit facility," Ford said. "Since the transit center was constructed in 1987, ridership has grown over 60 percent and more demands have been placed on the facility by a growing number of passengers and employees."
Ford said that means about 1.5 million people a year use the BTC. He said that foot traffic, as well as time and weather, have taken a toll on the building.
He said the heating, ventilation and air conditioning equipment is well beyond its life expectancy and a new fire suppression system is needed. He said the BTC also needs upgrades to comply with the Americans with Disabilities Act of 1990.
The site will include boarding spaces for six AATA buses, located along a central driveway. A transparent canopy will run the length of the site.
Courtesy of AATA
A landscaping strip measuring about 3,500 square feet will run along the southwest property line. According to plans, that will be the only area with vegetation on the site, as no interior landscaping is provided in the vehicle use area.
That was a sore point for Commissioner Bonnie Bona, who told AATA officials she was concerned the plans include a massive amount of pavement in a concentrated area. She wished there was some way the AATA could provide more green space.
"I would like to think that maybe there's something that the AATA can do, maybe in the street right-of-way near the building, to help provide some of the green space that you're not able to provide on the site, because it's precious downtown," she said.
Bona also said she's concerned the AATA is replacing a building that's only 26 years old. She said she hopes the new transit center will last longer.
Terry Black, the AATA's facilities manager in charge of the BTC project, said he wants to see a building that lasts, too, and that's why the AATA will be using more durable materials that are going to be easy to maintain and clean. He said it should last for years to come.
The AATA intends to continue to use the existing transit center building during construction. Bus boarding will take place on Fourth Avenue and William Street.
City Planner Jeff Kahan said no stormwater detention exists on the site right now, but a new stormwater detention system is proposed to be handled by three 24-inch perforated pipes underneath the main driveway on the north side of the site.
The direction of bus access is proposed to be reversed, with buses entering on Fourth Avenue and exiting on Fifth Avenue. Extra bus bays will continue to be provided on Fourth Avenue.
Pedestrians will have an opportunity to access the site from Fourth and Fifth avenues along a paved pedestrian plaza that bisects the site.
Kahan said the AATA is in the process of working with the DDA and city staff on the design of a pedestrian crosswalk that would connect the new Library Lane sidewalk across the street to the Fifth Avenue sidewalk.
The new BTC is expected to achieve LEED Gold certification for sustainable building design.
Sustainable design features include white reflective roofing materials to reduce heat island effects, collecting roof stormwater runoff for gray water use (flushing toilets), energy efficient condensing boilers (96% efficient), energy efficient lighting (lighting controls and LED fixtures), recycling of existing materials, use of new building materials with recycled content, and use of low-VOC (volatile organic compound) materials.
Commissioners Wendy Woods and Evan Pratt were absent from Tuesday's meeting.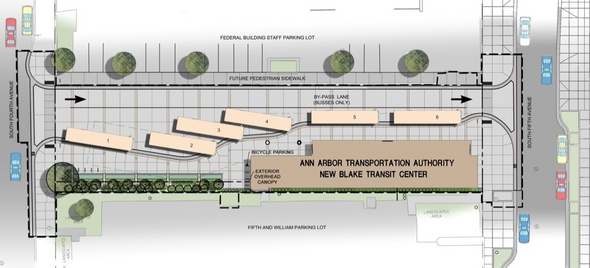 Courtesy of AATA
Ryan J. Stanton covers government and politics for AnnArbor.com. Reach him at ryanstanton@annarbor.com or 734-623-2529. You also can follow him on Twitter or subscribe to AnnArbor.com's email newsletters.