Posted on
Sun, Oct 28, 2012 : 12:17 p.m.
Blight Beat: Ann Arbor officials target Dexter Road home for demolition
By Tom Perkins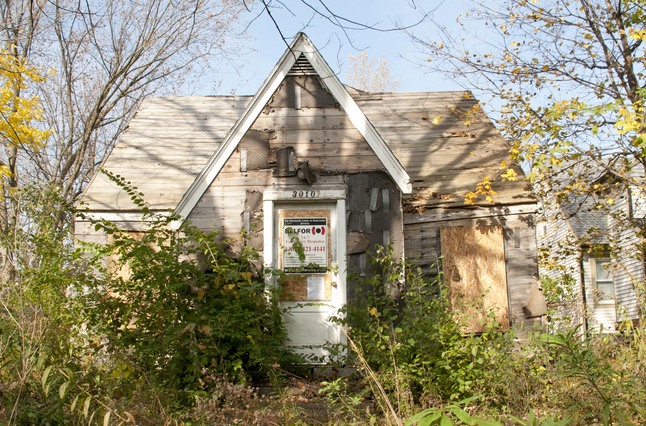 Tom Perkins | For AnnArbor.com
Ann Arbor building officials are pushing for the demolition of a long-abandoned and deteriorating Dexter Road home.
The homeowner failed to appear at a show cause hearing to make a case against demolition in front of the city's Building Board of Appeals, and the planning and development department is moving forward with plans to demolish the home.
The owner of the property at 3010 Dexter Road, Barbara Wallis, currently has a Palo Alto, Calif., address and failed to respond to any of the city's letters regarding the property.
Officials believe the home has been abandoned since at least January 2006 when the planning and development department first received a complaint about it.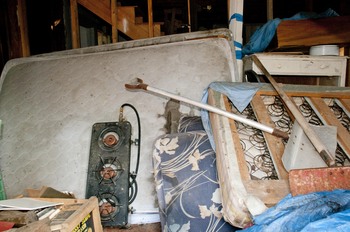 Tom Perkins | For AnnArbor.com
Two occupied homes sit approximately 15 feet from the deteriorating structure on either side.
Among issues are deteriorating walls, a generally deteriorating envelope, missing window sills, a partially collapsed roof, missing window panes and two-by-four studs exposed inside. Overall, the house is in "extreme disrepair", according to planning and development department documents.
Although the front door is sealed, the side windows are easy to open and it appears as if the owner left most of her belongings in the home. A tree either fell inside the home or was dragged in.
City officials also have received reports of people living in the house. A flimsy storage area is attached to the back of the home and debris litters the overgrowth in the backyard.
Also in the backyard is a pickup truck with its bed missing and an old, small tractor.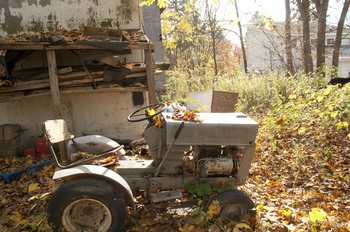 Tom Perkins | For AnnArbor.com
City documents show building officials performed 13 followup inspections since the initial 2006 complaint. The property was posted uninhabitable on August 25, 2011, and a notice of violation was sent to Wallis several months later. She was ordered to repair or demolish the home by April 30, 2012, but failed to respond.
Ralph Welton, the planning and development department's chief development official, said building officials haven't been inside the home yet.
"There is enough to see from the outside to know that this one is a goner," he said.
Welton said the city's legal department is working on the case and he expects demolition to move forward soon. If Wallis continues to disregard the city's correspondence, then the city will hire a contractor to tear down the home and place a lien on the property.
If Wallis disputes the city's order to demolish the structure, then the matter will be taken up in Washtenaw County Circuit Court.
Tom Perkins is a freelance reporter for AnnArbor.com.