Posted on
Sat, Nov 3, 2012 : 5:59 a.m.
Blight Beat: Ann Arbor officials target house 'on the verge of collapse' on city's southeast side
By Tom Perkins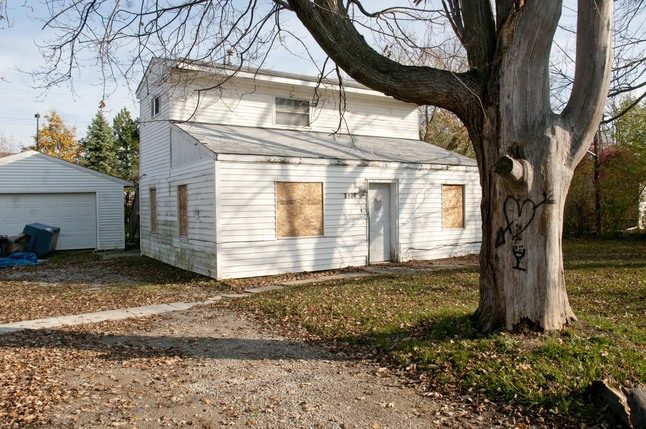 Tom Perkins | For AnnArbor.com
The city of Ann Arbor is pursuing demolition for a vacant house on Cherry Tree Lane on the city's southeast side.
The home, at 3123 Cherry Tree, is boarded up and in danger of partial collapse, according to officials.
The city's Building Board of Appeals recently ordered the property demolished. Its owner, Byron Patrikakos, has not responded to notice of violations requiring the property to be repaired.
Issues with Patrikakos and the property date back to 2003 when he was granted a permit to remove a flat roof and replace it with trusses.
That permit was canceled after it was discovered in 2005 that Patrikakos was building a second-story addition onto the home.
In 2007, officials issued a stop work order after it was discovered more projects were continuing. In 2012, neighbors began complaining about the unsafe addition and too many people living at the address.
Ralph Welton, the city's planning and development department's chief development official, said a family was living at the home but he wasn't sure how many were there.
AnnArbor.com was unable to reach Patrikakos, who Welton said travels frequently.
Welton saud building inspectors found a variety of issues in the addition, including holes in the wall that made it possible to see outdoors. A pipe from the bathroom sink drained into the shower and wires were running through the furnace.
Sections of siding are missing and debris remains scattered around the driveway and front lawn.
"Everything was a mess," Welton said. "The section he built looks like it's going to fall."
The family living in the home was ordered to leave and the house has since been boarded and posted as unfit for occupancy.
Patrikakos has been ordered to demolish the property by the Building Board of Appeals and it was brought to the city's attention by neighbors' complaints.
"A house like this drops property values, it's a dangerous building and it makes people feel unsafe about their kids being out and around it," Welton said. "Different buildings have different effects on neighborhoods, but they're always negative effects and always rile neighbors."
Tom Perkins is a freelance reporter for AnnArbor.com.