Posted on
Sat, Mar 31, 2012 : 5:51 a.m.
Blight Beat: Ypsilanti Township condemns drug house occupied by three young children
By Tom Perkins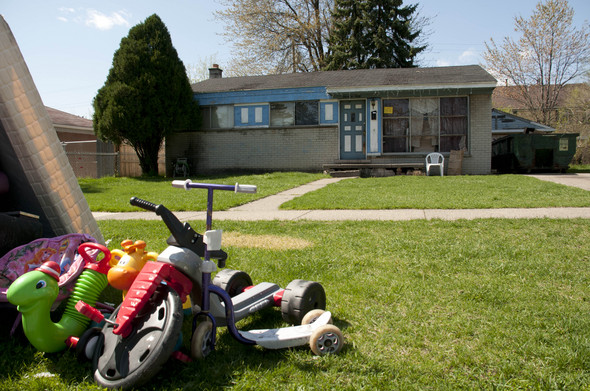 Tom Perkins | For AnnArbor.com
Ypsilanti Township officials have condemned a house where three children were living in dangerous conditions and the parents were arrested following a recent drug raid.
Neighbors complained to the Washtenaw County Sheriff's Department and township officials that residents were allegedly selling drugs out of the house at 1440 Gattegno Street.
LAWNET and Sherriff's Department officials raided the home and were accompanied by Ypsilanti Township building inspectors. Seven people were living at the address, including two parents, three children under 7 years of age, a grandmother and friends of the parents.
Several of the adults were arrested and the children are either with other relatives or being taken care of by a county agency. The adults remain jailed.
Building inspectors found the house covered in mouse feces and in a deteriorated condition.
But Ron Fulton, the township's building director, said his biggest concerns were the bedrooms where the children slept. The three bedrooms were in a finished basement, which had junk and debris piled to the ceiling.
Fulton said the work to build the bedrooms was completed without permits, there were no smoke alarms, there were no egress windows. The children likely would have been trapped in the basement if a fire broke out, he said.
Additionally, inspectors found dangerous wiring throughout the house that hadn't been completed by professionals and presented a fire hazard.
Officials also found significant mold growth throughout the home.
"We have placarded it as unfit to live in and the children have been sent elsewhere," Fulton told the Board of Trustees during a presentation on the home at the Board's March 26 meeting.
The Board authorized staff to take legal action if the home isn't brought up to code.