Posted on
Fri, Dec 4, 2009 : 12:19 p.m.
Bob Guenzel to retire as Washtenaw County's top administrator
By Ryan J. Stanton
Washtenaw County Administrator Bob Guenzel is retiring after nearly four decades of service to the county, leaving the board of commissioners with another major challenge ahead after closing a $30 million budget deficit.
"There's real big shoes to fill," said Board Chairman Rolland Sizemore Jr., who plans to talk with commissioners at a special meeting Monday about plans for replacing Guenzel when he leaves in May.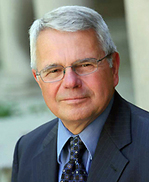 "I'm going to listen to how they want to proceed and probably we'll start in the middle of next month," he said. "We will just do our best to pick out who's going to be our new county administrator in the future, and I feel strongly we have a board that can do that."
Guenzel, the county's top administrator, informed the board of his intention to retire on Thursday, the day after the board approved a two-year budget for 2010-11. He told the county's department heads at a special meeting this morning he would retire effective May 14.
"I've been here 37 years, 22 as the attorney and the last 15 as the administrator," Guenzel said. "There's never a good time to separate from something you love. It's been part of me and who I am, and the relationships I've had here have been fantastic. But it's primarily to have an opportunity to have another career that's not quite as stressful and demanding, that allows me more flexibility in my schedule to spend more time with my family."
Guenzel said options he's considering include continuing to teach courses at the University of Michigan Ford School of Public Policy, leadership coaching, consulting and other special initiatives within the community.
Guenzel, head of an organization with more than 1,300 employees and a general fund budget of nearly $100 million, said he made a personal commitment this year to finish his work on the county budget before thinking about retirement.
"I think the county's in good hands," he said. "If our predications and estimations for 2010 turn out to be correct, I think that'll give the board and administration some breathing room."
Commissioners said Guenzel's departure marks the beginning of a new era of leadership.
"It's not often that a community gets to have leadership that is that long-lived and so well respected," said Commissioner Jeff Irwin, D-11th District, who has worked alongside Guenzel for the last 10 years.
"Bob Guenzel has been a gift the community," Irwin said. "He has been a tremendous county administrator for a lot of reasons that have to do with both style and substance. It's, of course, bad for the county to lose him but all good things must come to an end, and Bob's given a lot of great service to the county."
Guenzel, a longtime community leader both within and beyond the walls of county government, has been rumored to retire for some time. Now at the age of 68, he said it's a decision that makes sense for him.
Guenzel was hired as Washtenaw County's corporation counsel in 1973 after serving as assistant city attorney for Ann Arbor. Prior to that, he was an attorney for the National Labor Relations Board from 1967-1969. He was appointed county administrator by the board of commissioners in 1994.
"I'm very fond of Bob," said County Clerk Larry Kestenbaum. "I think that he's done a whole lot for the county and the community over the years. I'm sure that we will be able to move forward without him, but I'm sorry that he's doing this. At the same time, he may have reached the point in his life where this is the appropriate step."
By many accounts, Guenzel's background as a labor attorney served the county well over the years as the county's largely unionized work force has had a mostly positive relationship with administration.
"I think Bob has done an excellent job for the county over the years," Sizemore said. "He just pulled us out of a $30 million budget deficit. He started up some good things in town hall meetings with employees and, in my opinion, that's what helped us more than anything else."
When it came time this year to talk about closing the budget gap, Guenzel was able to bring labor groups to the table and negotiate agreements that included workers giving up promised raises. Ultimately, the budget was balanced without draconian cuts to services.
"Bob, over the course of really many, many years, set us up for success in tough times by promoting a positive, productive labor-management relationship," Irwin said. "One of the things I always like to say about Bob is he really taught me about the value of process - not just working on things for the right outcome but going about it in the right way. He wants to make sure everybody is involved and feels their input is valued."
Guenzel has been given credit for leading the effort to build the Delonis Center, a homeless shelter in Ann Arbor. He also was instrumental in developing the county's Blueprint to End Homelessness. He now co-chairs the Washtenaw Literacy Coalition, which is working to implement a Blueprint to End Illiteracy.
Guenzel currently serves as vice chairman of Ann Arbor SPARK, the area's economic development agency. He also is a board member of the Washtenaw Housing Alliance and The Ark, a nonprofit concert venue.
County commissioners said the hiring of a new county administrator is the second most important responsibility they have, after adopting a balanced budget. Right now there's a strong indication commissioners may look within the organization to replace Guenzel.
"The board's going to have to grapple with this obviously," Irwin said. "We want to attract the best and brightest, but then again we have some really strong candidates within the organization. This is an important decision for us."
Sizemore said he plans to form a committee that will evaluate candidates and make a recommendation to the board of commissioners. He said there's currently no timetable, but the process should begin next month.
Ryan J. Stanton covers government for AnnArbor.com. Reach him at ryanstanton@annarbor.com or 734-623-2529.