Posted on
Sat, Mar 2, 2013 : 2:05 p.m.
Ann Arbor book club celebrates 18 years of meeting at Nicola's Books
By Lisa Carolin
The answers to what keeps a book club compelling and meaningful lies with its membership. Just ask those women who have been attending the In Good Company book club, which has been meeting for 18 years.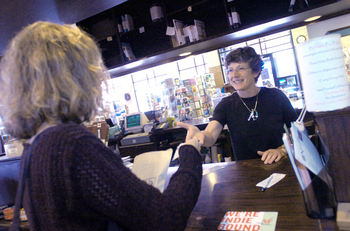 File photo | AnnArbor.com
The venue has always been
Nicola's Books
, 2513 Jackson Ave., at the Westgate Shopping Center in Ann Arbor, and Saturday afternoon, In Good Company members are thanking and recognizing owner
Nicola Rooney
with a brief ceremony before their meeting.
"Nicola has been very supportive of the book club throughout the years," said longtime member Veleria Banks. "If it weren't for her vision, I never would have met such a diverse group."
The admiration is mutual.
"This book club is one of our best attended, most vibrant, active and enthusiastic book clubs that we've ever had," said Rooney. "They are absolutely self-sustaining. We just provide the space."
"The book club became an intellectual, support clearinghouse for individuals in this community." said Michelle James-Mann, a member of In Good Company since 1998.
James-Mann says that the group focuses on African American books, but the membership is open to everyone no matter their ethnic identity or their gender. Currently there is one male member.
Lisa Lewis, who has belonged to the book club since its inception, sees the importance of offering an Afro-centric theme.
"It keeps us connected to our past, future, present and offers hopes for our tomorrows and that of our next generations," said Lewis.
"Our books have the lives and communities of African American people as the backdrop, and that and the fact that in many instances the characters are African American, makes the books easier for me to relate to," said Leslie Hollingsworth, who joined the club in 1996 soon after moving to Ann Arbor.
"There are so many awesome African American authors, and so many get lost in the shuffle that as a group we can find the hidden gems," said member Ingrid Peterson.
Peterson cites local authors including Beverly Jenkins and Heather Neff, who have even visited the book club.
The club reads a variety of genres. Last month's book was The New Jim Crow, a nonfiction book by Michelle Alexander.
"it's helpful to be able to discuss the issues with other African-American people," said Hollingsworth. "Reading the book then discussing it and receiving the input of other members had a major influence on me and on my subsequent community action efforts."
Book club member Frances Spackey appreciates the friendships she has made during her years in the club.
"This is a group of strong, smart, worldly members, and I have learned so much from the lively discussions," said Spackey.
"We have traveled together, celebrated birthdays, children's graduations, and weddings together, and we have mourned the loss of loved ones," said member Susan Baskett.
In Good Company members also do community service together such as school supplies drives for SOS Community Services, throwing a baby shower at the Corner Health Center for young mothers, and volunteering at Food Gatherers.
Baskett says that one of the conveniences of meeting at Nicola's is that no one person has to worry about cleaning their homes or preparing snacks. The format is up to whoever is facilitating that month.
"I joke that no matter what we read, we end up talking about sex, men and menopause!" said Baskett.
"When you arrive in one of our lively book discussions, you know that you are 'in good company,' " said James-Mann.
In Good Company meets the first Saturday of every month at 4 p.m. by the fireplace in Nicola's Books and welcomes new members.
Lisa Carolin is a freelance reporter. Reach the AnnArbor.com news desk at news@annarbor.com.