Posted on
Sun, Nov 6, 2011 : 1:04 p.m.
U-M says switch to metered parking at Matthaei Botanical Gardens won't deter visitors
By Kellie Woodhouse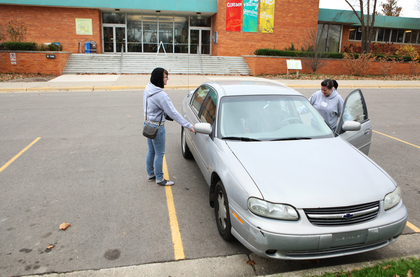 Jeff Sainlar I AnnArbor.com
Come January, the 100,000-plus people who visit the
University of Michigan
's 80-acre
Matthaei Botanical Gardens
each year are in for a surprise: parking meters.
While parking at the rural property is abundant, Matthaei Associate Director Karen Sikkenga says the switch to meters is part of an effort to adapt to standard U-M practices.
Currently, entry to the gardens is free, but entry to the indoor conservatory at the gardens is $5 per adult and $2 per child.
That makes Matthaei the only U-M museum to charge for admittance, and the only one not to charge for parking.
"We have at times had some questions raised about whether it's appropriate for us to be charging an admission fee," Sikkenga said. "It's hard for us to get rid of the admissions fee because we depend on that revenue. So this is a way for us to not charge admission to the observatory and not lose too much revenue."
The money garnered from the meters will go directly to the botanical gardens and Nichols Arboretum. Additionally, members won't have to pay for parking. Individual membership is $45 a year.
According to university figures, the botanical gardens get more than 100,000 visitors each year. About a quarter of those visitors —or 2,200 a month— pay to visit the conservatory.
For those who wish to visit the conservatory, the pay-for-parking system actually makes their visit less expensive. For example, where a family of four would pay $14 to visit the museum now, come January they'll pay $2.40 if they stay for two hours.
However, of those individuals who visit the gardens, the majority —around 75 percent— don't go into the museum.
"Less people will come if they have to pay," predicted Washtenaw Community College student Tera Westergard.
Westergard visited Matthaei with fellow WCC student Jessica Protetch on Thursday afternoon.
"We had no idea coming in if we had to pay or not, and we were like 'If we have to pay then we're turning around,' " Protetch said.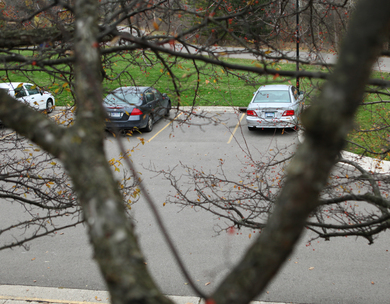 Jeff Sainlar | AnnArbor.com
The duo went to Matthaei to take photos for a photography class they're taking at WCC. Westergard and Protech predict that many photographers will pick other nature sites to photograph once the meters are installed.
However Travis Smith, a professional photographer who frequently uses the gardens as a backdrop for portraits, says the meters won't dissuade him from visiting.
"I always hate paying but at the same time they have to support themselves," Smith said. "I wouldn't think it's a big deal to pay for parking… I think it's awesome to have a free place like this to come."
Sikkenga said that she doesn't "think attendance is going to be impacted" by the meters.
"Always when pay parking is first introduced at any site, people are distressed about it," she said. "But once people realize the fee is so reasonable and standard, then they get used to it."
Matthaei volunteer Debbie Hoffman, who gives tours of the conservatory, said she disagrees with the switch to meters.
"It might cut people's visit short if they feel like they have to feed the meter," she said.
Protetch agreed.
"It's understandable to have to pay to get into the museum, but to have to pay for parking… just seems weird," she said.
Kelly Winters, who also visited the gardens Thursday afternoon, said that meters don't make sense given the gardens' rural location.
"There's so many places you have to pay to park in this area, but I don't know about right here," the Berkley resident said. "I understand in downtown…but I don't think it's as necessary here."
Sikkenga noted that visiting Matthaei is less expensive than visiting most other "destination" places.
"We're a destination so if you go to the Detroit Zoo or if you go to any public place like we are, you typically pay something," she said. "Virtually at all botanical gardens you either pay a parking fee —and it's not just $1.20, it's much more than that— or you pay an admission fee."
Kellie Woodhouse covers higher education for AnnArbor.com. Reach her at kelliewoodhouse@annarbor.com or 734-623-4602 and follow her on twitter.