Posted on
Wed, Nov 4, 2009 : 12:55 a.m.
Countywide school enhancement millage fails
By David Jesse
A proposal to increase Washtenaw County voters taxes by 2-mills to deliver additional money to local school districts has failed.

"The message of responsible spending resonated with voters," said Albert Berriz, who gave more than $75,000 of his company's money to fight the additional tax.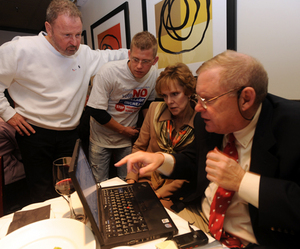 Lon Horwedel | AnnArbor.com
"I think the voters have held our school board and school administrators accountable for what they do and how they spend money."
Around 12:30 a.m., Steve Norton, the campaign manager for the Ann Arbor citizen's group pushing the millage, all but conceded the race.
"I think it's extremely unlikely that it will pass," he said. "We knew it was going to be difficult to begin with. It's hard to ask people in these times to make sacrifices, even if it was a reasonable sacrifice."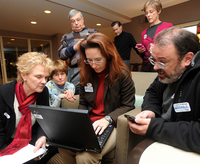 Lon Horwedel | AnnArbor.com
Norton said the margin in favor of the millage in the Ann Arbor precincts that have already reported results isn't what they expected to see.
"We knew it was going to be a difficult thing to ask for in this time, but we felt that we had to ask the voters to help fund their schools."
Ann Arbor school district spokeswoman Liz Margolis declined, by e-mail, a request for comment Tuesday night. Wednesday morning she said Superintendent Todd Roberts would comment today on the election
Washtenaw Intermediate Superintendent Bill Miller was unable to be reached for comment.