Posted on
Fri, Jun 10, 2011 : 5:59 a.m.
Ypsilanti targets crime near Brandy's Liquor Shop as owner says his store isn't a problem
By Tom Perkins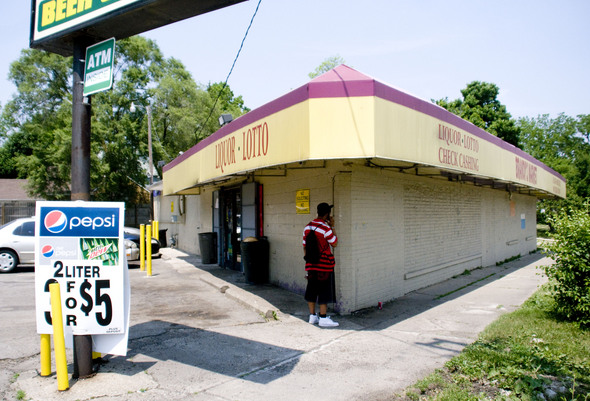 Tom Perkins | For AnnArbor.com
Ypsilanti's midtown residents are demanding the city close down a party store that they said is at the center of crime issues in their neighborhood, but the owner of Brandy's Liquor Shop says his operation isn't the problem.
Residents called on city council to take action Tuesday night after a burst of semi-automatic gunfire took place a day earlier outside the store on West Michigan Avenue at South Summit.
They say the store and several neighboring vacant houses on Summit have been at the center of problems that include regular and open drug dealing, fights, shootings and prostitution.
City attorneys are preparing to ask a Washtenaw Circuit Court judge to declare the property a public nuisance and council approved a resolution to ask the Michigan Liquor Control Commission to revoke the store's liquor license.
Yet Brian Hanna contends his store is not a problem and questioned why the Ypsilanti Police Department, which is headquartered a quarter mile to the east, can't better control crime in the area.
He said the people committing crimes aren't his customers and attributed some of the issues to drug addicts and others waiting to sell their plasma at the plasma donation center across Michigan Avenue.
He also said the city runs the Paradise Manor low income housing project a quarter mile to the west on Michigan Ave., and alleged its residents are causing the issues. He suggested the city close down that complex if it wants help address crime in the area.
Ultimately, Hanna said, it is not his store's fault that there is crime in the area.
"I can't control what happens in the streets," he said. "If they want, I can be like Rambo and go into the street with two AK-47's in my hands. I could probably do a better job than the police."
He said the YPD have tried to shut him down and harassed him for calling too much, and questioned why anger is directed his direction.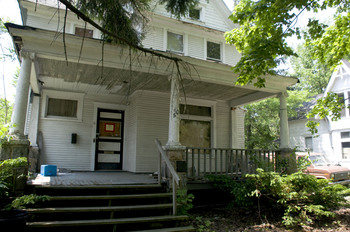 Tom Perkins | For AnnArbor.com
"It's not what I can do, it's what can the city do?" he said. "If they can't keep a little corner that's one block away from them safe, then what can they do?
"How is it that I'm the closest one to the police department in the city and this is going on? It doesn't make sense to me."
Ypsilanti Police Sgt. Troy Fulton said allegations that the police asked the store to quit calling or reporting crime were untrue.
"That's totally false," he said. "We never tell anybody not to call the police department, especially knowing the issues that happen up there, where things can escalate quickly. No one at the police department would ever say something like that."
He also said the police continue to monitor the property and address issues around the store.
"All I can say is we're doing everything we normally do legally to keep it clean and respond when people call," he said. "It kind of speaks for itself when the neighborhood is so upset."
Jailed Ypsilanti landlord David Kircher owns several houses on Summit. Another abandoned home sits across the street. Andy Claydon lives next door to that home and across the street from Brandy's and the other two vacant homes. He said drug deals regularly occur on the abandoned homes' porches, prostitutes use an abandoned van on the Kircher properties and he has seen people overdose on the porches, among other issues.
On Wednesday afternoon, several teenage boys sat on one of the porches and left as an AnnArbor.com reporter approached the home. A few minutes later, after an Ypsilanti Police officer had circled the block and driven through Brandy's parking lot, one of the boys returned and offered to sell the reporter drugs.
According to a memo from City Manager Ed Koryzno, ordinance officials visited the Kircher properties on Wednesday and issued citations for four abandoned vans on the properties, overgrown vegetation and litter in the yards.
Also on Wednesday, police arrested Brian Hanna's brother, Brandon Hanna, at Brandy's on an outstanding Michigan State Police felony warrant for receiving and concealing stolen property. The warrant stemmed from an undercover operation and raid by the MSP and Ypsilanti Police last year.
Outside the store, steady foot traffic came from the direction of Paradise Manor and Gateway Apartments.
John Burns, who lives at Gateway, said he visits the store two or three times daily and said it's the only place to purchase food or beverages in the area. The store has seen improvements in recent years, Burns said, and he feels safe shopping there.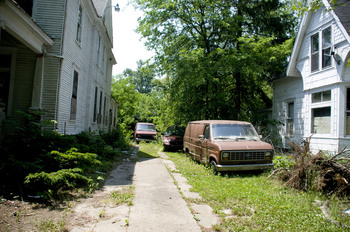 Tom Perkins | For AnnArbor.com
"They have a few problems but it's a lot better than it was," he said. "At one time you had 1,000 people in front of the store, but not anymore. I feel better about it."
Chris Errons, who lives in Paradise Manor, also said the store's proximity to his home makes it convenient to shop there. He also said the store has improved in recent years, though he said there are still problems.
"I have nowhere else to go, so I have to come here, but it's not so bad," he said.
Claydon also said he shops at the store and likes the convenience of having it across the street, though he is upset over what he said is a steady increase in crime outside the store.
Hanna said his immediate family has owned the store for 13 years and cousins owned it for 10 years prior. The store provides a service to the area, he said.
"The neighborhood has been living off this store for years," he said. "Just because the environment changes, I don't think the store I invested my life saving into should be shut down because the city doesn't know how to control crime."
The city previously tried to get the building declared a public nuisance and the two parties went to court in 2008. That resulted in a judge's order for Brandy's owners to clean up the property and work with the community, though many of those conditions weren't met, city officials allege.
Hanna recently bought an abandoned gas station directly across the street and plans to open a restaurant there. He insisted Brandy's isn't going anywhere.
"They can try (to close the store), but they're not going to succeed," he said. "They are going to waste their time and their money. They think they can get away with closing the store, but that's not going to solve the problems here."