Posted on
Fri, Sep 6, 2013 : 5:58 a.m.
Bringing 'community solar' to Ann Arbor: Effort to create pilot program underway
By Ryan J. Stanton
About a year and a half ago, Nate Ayers and some of his neighbors in Ann Arbor's Lower Burns Park neighborhood began thinking seriously about solar energy.
They discussed ways to collaborate on a group installation project, pooling their resources and buying as many solar panels as possible for as cheaply as possible.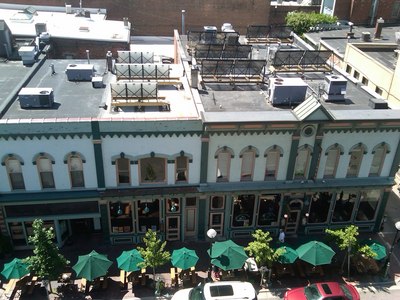 photos courtesy of AABOR
Because of the dense tree cover in their neighborhood, they realized their own homes weren't ideal locations, so they began looking around.
What about a larger installation somewhere outside of the neighborhood where they'd each buy into the project — similar to a co-op model — and each receive credits for the energy produced by the system? In theory, they'd recoup their investment over a period of several years, while at the same time helping reduce the community's carbon footprint.
"As citizens, we want to help the city achieve its renewable energy goals," Ayers said. "This is a community that's pretty passionate about sustainability and ecological awareness, so it's definitely a combination of both ecological and economic benefits."
Ayers, a professional permaculture designer, said about 20 of his neighbors are now on board with the idea. He's thinking maybe a nearby business on South Industrial Highway with a nice south-facing roof will work, but they're still trying to pin down a location.
The Ann Arbor City Council gave the group's idea a boost this week, passing a resolution encouraging the development of a pilot "community solar" project.
City officials said a number of neighborhood and church groups have contacted the city about implementing a community solar project in Ann Arbor.
Community solar is an emerging practice allowing a group of people or businesses to purchase shares in a renewable energy system not located at the site of their electric meter, explained Nate Geisler, the city's energy programs associate.
The participants receive a share of the value of the energy produced from the offsite system as if it were located at their home or business, Geisler said.
He pointed out the Cherryland Electric Cooperative in Traverse City has launched the first large-scale example of community solar in Michigan and has seen fast growth in resident participation in the short time the program has been available.
It's estimated that 70 percent of Ann Arbor citizens do not have the ability to invest in efficient or practical solar energy because of site issues — they're either in the shade, don't have the right roof orientation for solar exposure, or they don't own their property.
The high cost of installing a complete solar energy system also is a barrier for many people who alternately could afford to invest in a partial system or several solar collectors.
And sometimes people simply don't feel comfortable purchasing or maintaining a solar energy system with technology they know little about.
"Community solar can remove many of these barriers by allowing a group of investors to purchase shares in a group-owned solar energy system, which is constructed, operated, and maintained by a third party," the council's resolution states.
Current electric utility policy in Michigan doesn't allow public utilities like DTE Energy and Consumers Energy to offer community solar programs except as a pilot program when approved by the Michigan Public Service Commission. City officials have set a target date of March 31 for outlining a plan for the MPSC's consideration.
Ann Arbor officials are planning to work with DTE Energy to launch a pilot program that could enable community solar in Ann Arbor.
The City Council also went on record Tuesday night encouraging the Michigan Legislature to pass enabling legislation for community solar similar to a bill passed in Minnesota in May, mandating public electric utilities to submit a plan to allow separately metered accounts to be credited for investment in community solar projects.
Ann Arbor, which is designed a "Solar America City" by the U.S. Department of Energy, has adopted a Climate Action Plan and developed a Solar Plan that both advocate maximizing the installation and use of solar photovoltaic systems.
Geisler said the Great Lakes Renewable Energy Association is underway with a statewide grant exploring feasibility and constraints facing community solar, and a pilot program in Ann Arbor could help inform and be informed by that effort.
"However, none of their funding would go toward an Ann Arbor pilot, it would just help to identify barriers and opportunities in our area and provide possible directions for a pilot," he said.
Ryan J. Stanton covers government and politics for AnnArbor.com. Reach him at ryanstanton@annarbor.com or 734-623-2529. You also can follow him on Twitter or subscribe to AnnArbor.com's email newsletters.