Posted on
Sat, Apr 17, 2010 : 3:42 p.m.
Eastern Michigan students premiere CoolHeads clothing line at Exposure Runway Show
By James Dickson
Britney Lankford had never participated in a start-up business before. The senior at Eastern Michigan University had some experience designing clothes, but only for herself. 
She'd never even seen another person wear her designs until Friday night's EMUÂ Exposure Runway Show at the Quirk Theatre.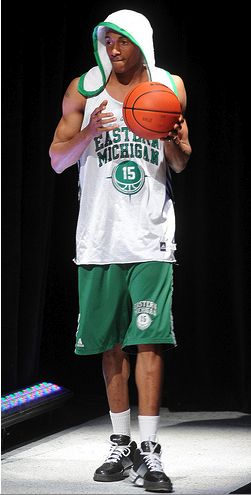 Angela Cesere | AnnArbor.com
The annual student fashion show doubled as the coming out party for CoolHeads, a headwear line founded and run by five Eastern Michigan students. CoolHeads - "wear cool meets cool," its slogan goes - are intended as an upgrade to the towels people drape over their heads to keep cool in the summer. The difference is they're designed to remain mounted.
The company is the brainchild of graduating EMU senior Tommy Green, who is president and CEO. Each of the five students involved is responsible for a single, defined area of expertise, and each is expected to do his or her job.
Green, who came up with the idea in a business course last fall, oversees the business. Fellow senior Crystal Young is operations manager. Leo Yang is the design engineer, and Vicky Min is the supply-chain manager. Lankford develops product.
Lankford first heard about the CoolHeads opportunity from Min. Before long, she was taking on product design, and on Friday night, Lankford won her first fashion award on behalf of CoolHeads, pulling down honors for Most Innovative Design.
"I'd never even seen anyone wear my clothes before," Lankford said, "let alone won an award for them. And I've been sewing for almost 15 years, since childhood."
The win provided a timely boost of confidence to a company set to launch in earnest on May 1.
The Exposure show also featured creations from other student designers and jewelry makers. Melody Murdock took home two awards - one for best construction, the other for best senior designer.
The entire fashion show was a student effort, from the design to set design to ushering. Students from five different programs at EMU collaborated to make the show work.
While most designers focused either on men's or women's fashion - mostly women's - CoolHeads trotted out a diverse collection of models, from young to old, blue and white collar, from sports fans to athletes. That diversity, Green said, is exactly the point of CoolHeads.
"Anyone can wear a CoolHead - from a Michigan football fan going to the game to your grandmother when she does her gardening outside," Green said after the show. "We want to use that versatility to bring people together."
Green said that the company's strategy, in the early going, is to sell product at events, building the brand one cooled head at a time. The headscarves will be available for about $10 each, Green said.
On May 1, CoolHeads will go to market at the Kentucky Derby in Green's hometown of Louisville. After that, the group will return to Southeast Michigan to build a local following.
Several designs of CoolHeads were on display at the Exposure show, from maize and blue to scarlet and grey to green and white. Others were designed for landscapers, golfers, beachcombers and athletes, with pattern and material varying based on the situation.

"Winning the Most Innovative award was a good start, but it's only a start," Green said. "Now the mission is getting the product on peoples' heads."
James David Dickson can be reached at JamesDickson@AnnArbor.com.