Posted on
Sat, Mar 10, 2012 : 5:57 a.m.
Burns Park fifth-graders help design, paint boxcars for derby to benefit ALS research
By Danny Shaw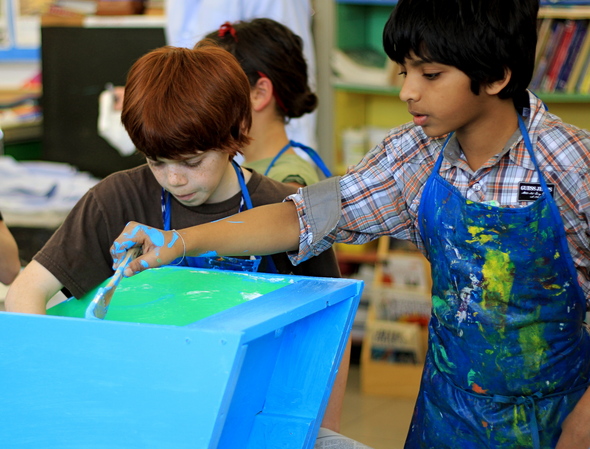 Danny Shaw | AnnArbor.com
Burns Park Elementary School
fifth-graders got to design and paint 12 boxcar racers to be used in the upcoming Ann Arbor Active Against ALS Boxcar
Derby Race and Picnic
.
The fifth-graders painted the boxcars in Kate Higgins' art class on Friday and will be adding their own custom designs over the next few weeks, leading up to the derby.
Every year, Burns Park fifth-graders take part in a special art project. This year, Higgins said the students were thrilled to hear about getting to design and paint some boxcars, with the added benefit of seeing them raced at the end of the month.
The derby will be on Saturday, March 24 from 10 a.m. to 1 p.m. on South University, between Oxford and Washtenaw. Immediately following the race, there will be a picnic lawn of the Phi Delta Theta fraternity house at the corner of South University Avenue and Washtenaw.
Fifth-grader Nico McCurrach said he hopes to be at the race, but is excited for art class next week to continue working on the boxcars.
"I think the most fun will be painting our designs," he said. "It's really cool to help out and it helps raise money to stop a bad disease."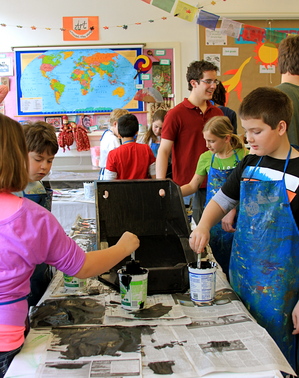 Danny Shaw | AnnArbor.com
The goal of the event is to raise money for treatment and cure research for amyotrophic lateral sclerosis, a fatal neurological condition also called Lou Gehrig's disease.
Ann Arbor Active Against ALS is a local nonprofit organization that has partnered with the University of Michigan's Phi Delta Theta fraternity for the event. Lou Gehrig was a Phi Delta Theta member at Columbia University.
"This is an awesome event and all the brothers are really excited," said Eric Pillado, a junior at U of M and fraternity member. "It's something that pulls together the community and every year we have a great time. I'm super excited."
Pillado said 75 Phi Delta Theta members, the entire Ann Arbor chapter, is pitching in. Along fraternity brothers cooking out, attendees can expect to see a bounce house, bake sale and face painting at the picnic.
David Lowenschuss, Ann Arbor Active Against ALS Board member, said last year's derby donations amounted to more than $4,000 and expects this year will bring in even more.
"We already have 20 teams signed up and our goal is to have 64 teams," Lowenschuss said. "It's always really exciting. Everyone, especially the kids, get really excited at the race. It's great."
Lowenschuss said the entrance fee for the race is $30 and teams can build their own racers but pre-built boxcars, including the ones painted by the Burns Park fifth-graders, will be available to contestants who don't build their own.
For more information about the derby and boxcar requirements, visit the Ann Arbor Active Against ALS website.