Posted on
Tue, Feb 21, 2012 : 9:10 a.m.
Burst of snow sends drivers crashing on Ann Arbor-area roads
By Cindy Heflin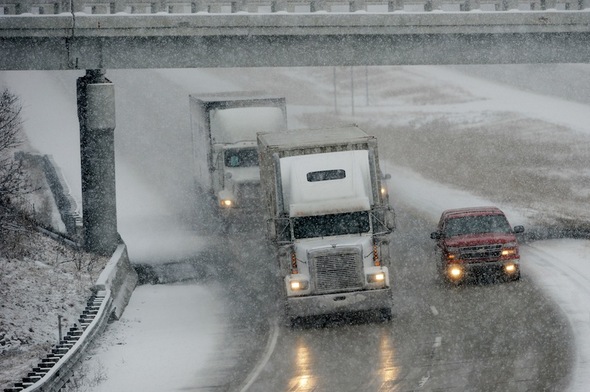 Melanie Maxwell | AnnArbor.com
10:30 a.m. update: All major county roads and freeways are open, a dispatcher with the Washtenaw County sheriff's department said, but police were still dealing with multiple crashes in the Ann Arbor area.
An unexpected burst of snow sent drivers spinning and crashing on Ann Arbor-area roads Tuesday morning.
Several crashes were reported on area roads and freeways, including a multiple-car crash on eastbound I-94 near Michigan Avenue in Ypsilanti Township, a crash at Packard and Platt roads in Ann Arbor and one at eastbound I-94 at Baker Road near Dexter. A crash of a semi tractor-trailer and car was reported at westbound I-94 and Ann Arbor-Saline Road, a dispatcher with the Wasthenaw County sheriff's department said, but it was not clear if the road had been closed.
Westbound M-14 near Main Street in Ann Arbor was closed for a short while because vehicles couldn't make it up the incline, a dispatcher said. It was reopened after salting.
Reports from Ypsilanti indicated cars were stuck on Michigan Avenue near Prospect Street trying to climb the hill.
Snow was falling at a moderate rate just before 8 a.m., limiting visibility to about half a mile said Matt Mosteiko, a meteorologist with the National Weather Service in White Lake Township.
The snow moved into the Ann Arbor area from northeastern Indiana, which received an inch of snow in one hour Tuesday and a total accumulation of 1.3 inches, Mosteiko said.
"It's possible you guys could get a quick inch," he said. Mosteiko said snow had been in the forecast for Tuesday, but the intensity of this burst had not been anticipated.
Whatever falls won't stay around long though. Temperatures were expected to begin warming with a high today near 40 and a rain and snow mix for the rest of the day.