Posted on
Mon, Aug 27, 2012 : 5:57 a.m.
16,000 trees, 6,300 labs and 7,300 professors: Just how big is the University of Michigan?
By Kellie Woodhouse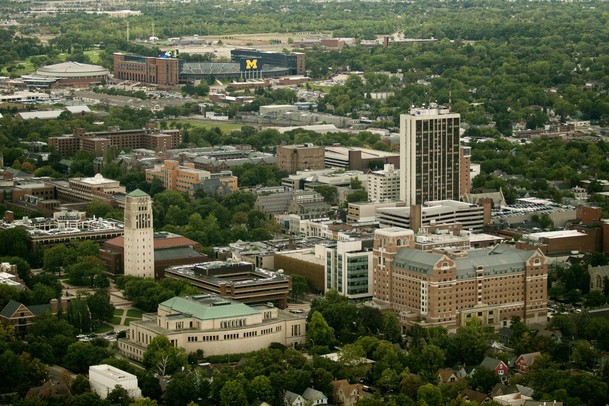 Jeffrey Smith | AnnArbor.com
As students prepare to move back and residents prepare to have their town once again flooded with students, AnnArbor.com asks: Just how wide is University of Michigan's scope in Ann Arbor?
If you live here, it would be fairly impossible to have never stepped foot on the Diag, to have never waded through traffic on football Saturdays or to have never experienced the change of the city skyline with another U-M project, such as the $754 million new C.S. Mott Children's Hospital.
The scope of the school is probably impossible to quantify, but AnnArbor.com compiled some figures that hint at how vast the university is.
Before you take it all in, try our quiz:
University of Michigan by the numbers:
$11,100,000,000 in net worth
$1,795,000,000 in debt as of March 2012
$1,650,000,000 2012-13 operating budget, up 3.91 percent from last year
$523,000,000 is the 10-year average for yearly construction costs at U-M.
$273,100,000 in state funds awarded to U-M's Ann Arbor campus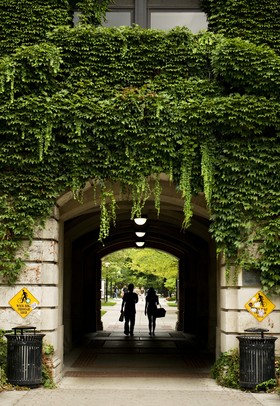 Daniel Brenner | AnnArbor.com
34,000,000
gross square feet of building infrastructure
13,000,000 square feet of turf
4,700,000 square feet of sidewalks, steps and plazas.
137,200 desktop computers
42,540 applications for entry into the 2012-13 freshman class, up 7.5 percent from the previous year. 15,523 got in and 6,449 paid their deposit.
$39,120 for non-resident undergraduate tuition in 2012-13, up 3.5 percent from last year.
29,960 staff on all three campuses
16,100 trees
$12,990 for resident undergraduate tuition in 2012-13, up 2.8 percent from last year
$9,750 for standard on-campus housing in 2012-13, up 3.5 percent from last year
7,300 faculty members on all three campuses
6,300 research labs
2,130 classrooms
280 acres of parking lots and parking structures
150 miles of fiber optic cable
8 regents that make the final decisions for major academic and spending initiatives
7 miles of utility tunnels
Kellie Woodhouse covers higher education for AnnArbor.com. Reach her at kelliewoodhouse@annarbor.com or 734-623-4602 and follow her on twitter.