Posted on
Mon, Jun 3, 2013 : 3:37 p.m.
By the numbers: Yearly traffic counts at intersection of State and Ellsworth
By Amy Biolchini
Work began Monday on a $2.4 million project at the intersection of South State and Ellsworth roads in Pittsfield Township to convert the traffic signal-controlled intersection into a two-lane roundabout.
The project was initiated because of the projected traffic issues that Pittsfield Township officials anticipated would come with the June 2012 opening of the new Costco store at 771 Airport Blvd.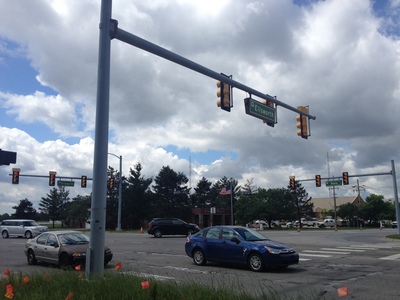 Amy Biolchini | AnnArbor.com
A traffic analysis completed in 2010 projected that the addition of Costco to the area would add about 1,000 vehicle trips on a weekday and would nearly double some of the wait times on State at the Ellsworth traffic light.
A recent report indicates 49 crashes occurred at State and Ellsworth in 2011 -- ranking it among the top 40 intersections in the county for incidents that year.
Eight of those crashes involved injuries, and 29 were rear-end collisions.
Brent Schlack, senior project manager in the Traffic and Safety division of the the Washtenaw County Road Commission, said that traffic counts are conducted on a three-year basis -- a recent change from a two-year count cycle.
The following are the average number of vehicles per day that travel on State and Ellsworth. The figures are based off of 24-hour traffic counts.
The Road Commission monitors Ellsworth Road traffic approaching the State Street intersection at Oak Valley Drive:
2012: 16,080 vehicles/day
2010: 14,640 vehicles/day
2008: 13,620 vehicles/day
2006: 16,530 vehicles/day
2004: No data available
2002: 16,070 vehicles/day
2000: 18,489 vehicles/day
South State Road traffic at Ellsworth Road:
2012: 15,660 vehicles/day
2010: 16,200 vehicles/day
2008: 16,250 vehicles/day
2006: 18,570 vehicles/day
2004: 15,820 vehicles/day
2002: 18,729 vehicles/day
2000: 19,284 vehicles/day
Amy Biolchini covers Washtenaw County, health and environmental issues for AnnArbor.com. Reach her at (734) 623-2552, amybiolchini@annarbor.com or on Twitter.