Posted on
Sat, May 7, 2011 : 4:12 p.m.
Bye-bye, floppy discs: Residents recycle more than 250 tons of e-waste at Ann Arbor event
By Lisa Carolin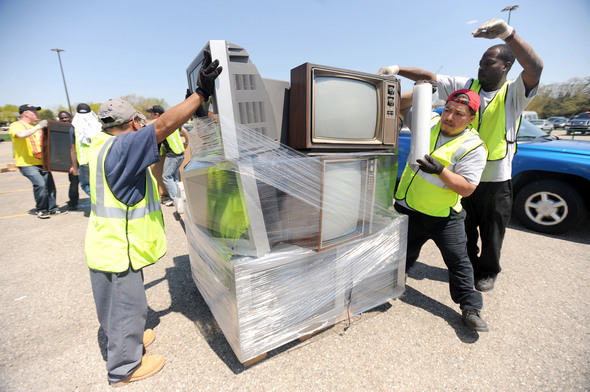 Angela J. Cesere | AnnArbor.com
Old television sets of all varieties dominated the items discarded at
today's free e-waste recycling event
in
Ann Arbor
.
Residents dropped off enough stuff to set a record at the fourth annual event, held at Pioneer High School, filling 21 vans for a total weight of more than 250 tons of recycling, about 5 more tons than last year, organizers said.
That's a lot of CD-ROM's and old computer mice.
"Just take anything in the trunk," Ann Arbor resident John Strode directed the crew this morning from Palmer Moving and Storage that unloaded unwanted electronics. "I'm dropping off a TV and a bag of goodies: CD-ROM's, a power supply, a keyboard and a mouse. It's a great way to get rid of stuff."
"It's hard to get rid of these things once they become obsolete," said Dave Walker from Ann Arbor. "You don't know what's in them, so you don't want to throw them in the trash."
Other popular discarded items included printers, VCRs, cassette players, and monitors. The purpose of the mass recycling event is to recycle electronics responsibly.
"Lead and mercury can be pulled from some of the electronics so they don't end up in a landfill," said Barbara Hagan, administrator of the University of Michigan Office of Campus Sustainability, which organizes the event along with Ann Arbor Public Schools. "We call it 'above-ground mining' when we smelt off copper, aluminum and gold and reuse it."
Angela J. Cesere | AnnArbor.com
Everything dropped off today will be recycled. It's all going to Chicago, thanks to an anonymous global company that's footing the bill. Huge shredders grind and separate the materials and nothing ends up in a landfill.
"The Ann Arbor Public School District depends on this event to have its electronic waste recycled for free," said Hagan. "We took a total of six truckloads of waste from small businesses, nonprofits and the schools."
MaryBeth Stuenkel was among the volunteers helping today from the University of Michigan. She works for IT Services, and is working on a more sustainable computing program at the university.
"This is an incredible event," said Stuenkel. "We have a lot of repeat customers who wait for this every year to empty out their basements and garages."
Suzette Bouchard arrived with a full vehicle. She was relieved to be parting with old computer equipment.
"This is the third time I've come to this event," she said. "I'm happy to get it out of the house without having to cause any pollution problems."
According to Hagan, today's recycling event brought in the most recycling in its four-year history, with 4,000 vehicles participating in the dropoff.
Lisa Carolin is a freelance reporter for AnnArbor.com.