Posted on
Sun, Oct 16, 2011 : 5:58 a.m.
New cable median barriers to improve safety on Washtenaw County highways, MDOT says
By Lisa Carolin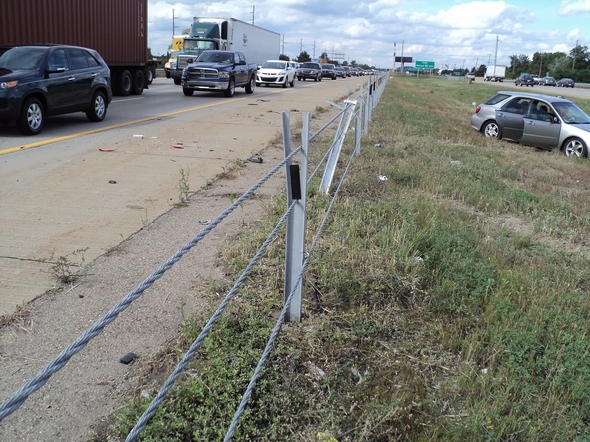 MDOT photo
Some Washtenaw County highways will soon get new median barriers designed to save lives.
The Michigan Department of Transportation (MDOT) is installing cable barriers in freeway medians to reduce the frequency and severity of median-crossover crashes.
MDOT says cross-median crashes are three times more deadly than other freeway crashes, and the cable barriers are expected to reduce those crashes by an estimated 90 percent. MDOT estimates that cable barriers will save 13 lives and prevent 51 incapacitating injuries a year.
The median cable barriers, which are made of steel wire ropes mounted on posts, absorb the energy of a vehicle crash, preventing the vehicle from bouncing back into traffic.
"In Washtenaw County, we currently do not have median cable barrier up on any state freeways," said MDOT spokeswoman Kari Arend. "In 2012, we have median cable barrier going in on I-94 from Parker west to the Washtenaw-Jackson County line, and in 2013, median cable will be installed on US-23 from M-50 north to the Monroe/Washtenaw County line in Monroe County."
In 2014, median cable is expected to be installed on US-23 from I-94 south to the Washtenaw/Monroe County line.
Livingston County will also be getting the new barriers. "Cable barriers will be installed on US-23 between M-36 in Livingston County north to the Genesee County line next year," said Wendy Ramirez, traffic and safety engineer at the MDOT Brighton Transportation Center.
MDOT is in the third year of efforts to install cable guardrail along 280 miles of highway medians in place of steel guardrails and concrete barriers.
Cable barriers cost $14-$16 per foot compared with steel guardrails, which cost $28-$33 per foot and concrete barriers, which cost $80 per foot. Unlike the latter two, cable barriers can be placed on sloping shoulders.
Arend says that locations for the cable barriers are chosen based on accident history and the physical location of the site selected.
"Cable guardrails can damage vehicles, but not nearly as much as a concrete barrier or steel guardrail," she said. "Motorists should call 911 and request professional assistance removing their vehicle from the cables."
Cable barriers are currently being installed in Ingham County between US-127 and Okemos Road.