Posted on
Thu, Dec 10, 2009 : 6:02 a.m.
Washtenaw County's dispatchers are calm voices on lonely nights
By Rich Kinsey
If you ever have to call 9-1-1, you'll speak to an unsung hero. Dispatchers, operators and telecommunicators are the first voice a person in need of assistance hears.
It's an extremely demanding job and absolutely essential to the emergency service providers on the street. Dispatchers and all who work in communications centers save countless lives and rarely get the credit they deserve.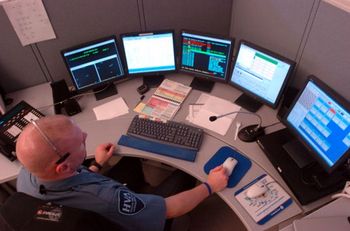 The 9-1-1 operator is the first link in obtaining emergency services. Many who call are in crisis - they may be under extreme stress from fear, pain, shock, drugs, alcohol or any host of human emotions.
Many people need to be calmed before the operator can obtain any meaningful information. It is sometimes difficult to understand callers in an excited state. There may be background noise, a poor phone connection, language barriers or numerous calls coming into communications at the same time if the incident is big.
The operators must quickly obtain essential information and pass it on to the dispatcher.
The dispatcher's responsibility is to prioritize the call, radio the appropriate emergency service provider - police, fire or emergency medical services - and make sure the closest available unit is sent to handle the "job." 
Prioritizing involves judging which call is a greater emergency. Calls that are potentially life-threatening get top priority. Calls that require a police report about something that's already happened - such as a home invasion, malicious destruction of property or shoplifting - get a much lower priority.
Telecommunicators are also responsible for the officers on the road and whatever they might need. Traffic stops, warrant checks, car registration checks, stolen property checks and anything that requires a computer query or phone call is the responsibility of the telecommunicators and dispatchers. Â 
Good dispatchers are worth their weight in gold, and wise street cops understand this. Dispatchers who know the officers on the streets save lives. They know officers' strengths and weaknesses and can get "jobs" handled most efficiently. 
More importantly, they keep the officers on the street safe by maintaining a critical link to other officers or assets needed to ensure everyone makes it to the end of their shift in one piece. Â 
Savvy dispatchers listen for an edge in an officer's voice or a hesitation in radio transmission that might mean an officer needs assistance but is reluctant to ask for it. They send back up without being asked based on their instincts. 
It means a lot for street cops to know there is someone on the other end of the radio who actually cares about them and isn't just putting in time for a paycheck. Many times in my career, dispatchers have saved me from embarrassment, injury and perhaps even death.
To assist emergency operators, take a few deep breaths as you are calling 9-1-1. Stay on the line until they tell you to hang up. Do not call 9-1-1 when storm sirens sound unless you need emergency assistance. Instead, go to your basement or interior room of your home and listen to a radio or television for information. Â 
If you want to thank the heroes who work in 9-1-1 centers, please e-mail or write their chief, sheriff, or post commander. But please don't call - they're busy enough handling the calls to keep Washtenaw County safe.
LOCK IT UP, DON'T LEAVE IT UNATTENDED, BE AWARE AND WATCH OUT FOR YOUR NEIGHBORS.
Rich Kinsey is a retired Ann Arbor detective sergeant who now blogs about crime and safety for AnnArbor.com.