Posted on
Sun, Nov 25, 2012 : 5:58 a.m.
Camp Take Notice returns after helping with Hurricane Sandy cleanup
By John Counts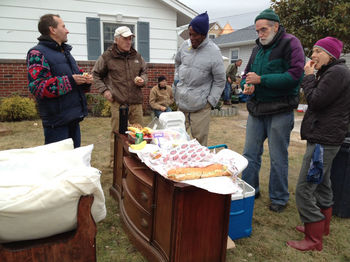 Courtesy of www.camptakenotice.wordpress.com/
Former residents of Camp Take Notice returned to the Ann Arbor-area Friday after more than a week spent in New Jersey participating in Hurricane Sandy cleanup efforts.
The group, which consisted of seven former camp residents and three volunteers, assisted in cleaning up five homes in Brick, N.J.
"(Some of the) homes had just been destroyed ... completely and utterly ruined," said Peggy Lynch, board member for MISSION, the non-profit behind Camp Take Notice.
AnnArbor.com spoke with Lynch and two former Camp Take Notice residents via phone Friday afternoon as the group was on the road back to Michigan. They all agreed it had been a great experience.
"It was a really rewarding and heartwarming thing to do," said Glenn Lieding, a former resident of Camp Take Notice. "We did what we could while we were there."
Three of the New Jersey residents they helped were elderly, including veterans from World War II and the Korean War. The homes had suffered from flooding a few inches to 10 feet deep, Lynch said. The Camp Take Notice volunteers assisted in throwing out ruined furniture, molding and cabinets and took part in other demolition-type activities.
"(The residents) were very grateful," Lynch said. "They couldn't have done this heavy work by themselves."
Richard Gillespie admitted to being a little tired Friday afternoon.
"It was very rewarding," he said, but also "very sad."
Gillespie said he has experience with construction, but learned a lot while helping out.
"We did a lot of the demolition that needed to be done," Gillespie said.
They worked in the cold and slept in the cold, he added. Staying at a tent city in New Jersey was "an experience in itself," said Gillespie, who said he eventually had to be hospitalized for one night during the stay because he came down with pneumonia — but not before he finished up his work.
"I got it done and said, 'Take me to the hospital,'" he said.
The group left for the storm-ravaged East Coast Friday, Nov. 16 and stayed the night at a church in Pennsylvania before arriving in New Jersey the next day.
While in New Jersey, the group stayed at a tent city in Lakewood Township, an encampment similar to Camp Take Notice, which existed near M-14 and Wagner Road before residents were evicted by the state this past summer. The tent city in New Jersey also has a contentious past. The township has tried to evict the roughly 80 residents who have lived on its land for five years, though a judge has ruled against immediately removing the homeless there.
A 2010 lawsuit between the township and the camp remains unresolved, the Wall Street Journal reported.
The Camp Take Notice group headed to the camp in three vans, one cargo van belonging to a volunteer that mostly hauled equipment and two rented mini-vans carrying the people, Lynch said. MISSION raised $2,500 for the effort.
Lieding, who is also homeless, was proud of his help with the clean-up efforts.
"We helped several families recover from the disaster," he said.
Lieding said he one of the New Jersey residents they helped was a man who served in the Navy during World War II before attending clown college, Lieding said.
"He has a lot of clown memorabilia," Lieding said, some of which was ruined, but most of which was salvageable.
The man's house had 6 to 8 inches of water in it after the storm and a lot of the man's furniture had to be thrown out and his appliances were destroyed.
"He was grateful," Lieding said.
Camp Take Notice posted about the volunteer effort on its blog, which you can read here.
John Counts covers cops and courts for AnnArbor.com. He can be reached at johncounts@annarbor.com or you can follow him on Twitter.