Posted on
Wed, Jun 20, 2012 : 3:51 p.m.
Campaign aimed at legalizing marijuana in Michigan unlikely to make the November ballot
By Ryan J. Stanton
It's looking unlikely that a proposal to legalize marijuana in Michigan will make the November ballot, but there still may be hope for legislative reforms regarding medical pot.
Supporters of a proposal that would make marijuana legal for people 21 and older told MLive.com on Wednesday they have received roughly 40,000 voter signatures, far short of the nearly 323,000 signatures needed by July 9 to make the ballot.
"Unless things change, it looks like we won't make it," Matt Abel, an attorney and organizer of the campaign, told MLive.com. "Realistically, we definitely have an uphill battle."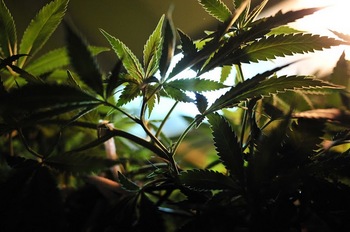 Ryan J. Stanton | AnnArbor.com
Ann Arbor City Attorney
Stephen Postema
said on Wednesday he's closely tracking legislation that would allow municipalities to regulate medical marijuana dispensaries locally and end the debate over whether they're allowed under the Michigan Medical Marihuana Act.
Dispensaries in Ann Arbor and elsewhere in the state have been the subject of much legal scrutiny, including police raids, as the courts have tried to hash out the issue.
"There is what's been called a local option provision, and that provision will allow municipalities to regulate (medical marijuana), as the city of Ann Arbor has already done," Postema said. "But it will allow, in the statute, dispensaries that are not currently set forth in the statute. That has been the big problem, in a sense, of the medical marijuana act."
House Bill 5580, which has bipartisan support, was introduced by state Reps. Mike Callton, Kevin Daley and Phil Cavanagh on May 1 and referred to the House Judiciary Committee.
The bill still hasn't moved out of committee, though.
Alan Klein, a legislative aide in Callton's office, said on Wednesday they're currently trying to schedule a committee hearing. The House is on break and will be back in session for one day in July, one day in August and then for nearly three weeks in September.
Postema noted the legislation would require support from at least 75 percent of the members of both chambers of the state Legislature.
"The likelihood of that succeeding is difficult to assess right now, but there are significant efforts going forward," he said.
Two groups also have launched a campaign to put a measure on the November ballot that would redirect police efforts away from enforcing laws against marijuana use in Ypsilanti.
Ryan J. Stanton covers government and politics for AnnArbor.com. Reach him at ryanstanton@annarbor.com or 734-623-2529. You also can follow him on Twitter or subscribe to AnnArbor.com's email newsletters.