Posted on
Thu, Aug 23, 2012 : 4:40 p.m.
Canadian official responds to ads attacking Detroit-Canada bridge proposal
By Ryan J. Stanton
Roy Norton, Canada's consul general in Detroit, didn't mince words on Thursday as he slammed the owners of the Ambassador Bridge for running "a mass campaign of deliberate deception."
Norton said the Moroun family, which is behind a $10 million television ad campaign opposing the New International Trade Crossing between Detroit and Canada, needs to be held accountable.
"The multimillion-dollar television campaign tells three very big lies," he said. "First, the latest versions complain that the bridge will cost Michigan taxpayers $2 billion upfront and $100 million a year. Totally wrong — the bridge will cost Michigan taxpayers nothing.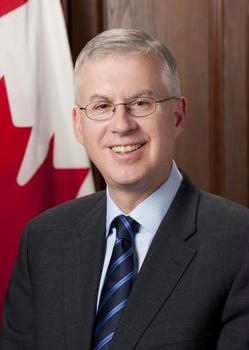 "We've had enough of this. It's time for the lies to be exposed."
The Michigan Truth Squad at the Center for Michigan recently conducted an independent review of the ads and agreed the misinformation contained in them hits a new low.
Norton's remarks came Thursday afternoon as he addressed a crowd of business leaders in Ann Arbor during an Ann Arbor/Ypsilanti Regional Chamber of Commerce luncheon. He acknowledged the language of diplomacy in which he's trained doesn't easily lend itself to confronting such attacks.
"That's exactly what the Ambassador Bridge folks are counting on — that the rest of us will play by so-called Marquess of Queensberry rules while they peddle their lies," he said.
"Not just lies — big lies," he added. "The absolute-opposite-of-the-truth lies. Lies repeatedly told, however, with such elegance and simplicity that many voters believe they must be true."
The Board of State Canvassers is scheduled to meet Monday to consider whether a proposal aimed at blocking the new bridge project should be approved for the November ballot.
"Michiganders can seize the opportunity to bring this saga to an end," Norton said. "If you mobilize to defeat this constitutional amendment, I think you'll position your state well to take advantage of job-creating economic development opportunities well into the future and you will affirm the U.S.-Canada and Michigan-Canada partnerships that give us so much faith going forward in this region."
State Rep. David Rutledge, D-Superior Township, and Sen. Rebekah Warren, D-Ann Arbor, were in attendance and applauded Norton for his remarks.
"I think more people should be exposed to the real facts, including that we're talking about an 83-year-old bridge that is a monopoly," Rutledge said of the Moroun-owned Ambassador Bridge. "We're also talking about an opportunity for Southeast Michigan to be a hub for world-class exports."
Warren said she gives credit to Gov. Rick Snyder for pushing forward the vision for the NITC and she hopes concerns about the cost to Michigan taxpayers will be put to rest soon.
"Michigan's constitution is incredibly clear that not a penny of state dollars can be spent without being appropriated by the Legislature, and so far this Legislature has been unwilling to appropriate any money," she said. "So until the Legislature votes for money being spent, there's no money being spent."
Snyder and Canadian Transport Minister Denis Lebel on June 15 signed an agreement to build a second bridge over the Detroit River between Canada and the United States.
Canada is bringing $550 million to the table, money Michigan will be able to use to leverage additional federal transportation funds for other highway projects in the state.
Norton said Canada will sign the contracts for construction and Michigan cannot in any way be held responsible or liable for contracts it does not enter into.
"The bridge will be built according to a public-private partnership model by a firm yet to be selected in an open tendering process," he added. "If the bridge costs more than expected, then the builder is on the hook. I should add that Canada commits to backstopping the builder."
Norton said Canada will front to the builder the full cost of constructing the interchange to Interstate 75. The builder also will be repaid for its estimated $1 billion investment in the bridge over 25 years. After that, Canada will be repaid over the next 25 years using toll revenues to recoup its $550 million investment.
Considering the bridge is expected to stand for 125 years, Norton said that leaves 75 years in which Michigan and Canada each will receive about $40 million annually in toll profits in today's dollars.
"In Michigan's case, that's $3 to $4 billion that you will receive in revenue, having put nothing down and having assumed no liability — the opposite of what the television commercials say," he said.
Even taking into consideration of the likelihood of legal battles over the project, Norton said he's confident the project could break ground in 2014 and be completed by 2018. After that, he said, the new crossing will bolster Michigan's $70 billion-a-year trade with Canada.
"For some time, it's been Canada's No. 1 national infrastructure priority, getting it built," he said. "I think it should probably be Michigan's No. 1 infrastructure priority as well, and for a lot of folks it is."
The A2Y Chamber last year offered its endorsement of the project, saying a new bridge connecting Michigan with Canada will be vital to Washtenaw County businesses.
Norton said more than 230,000 jobs in the state of Michigan alone depend on trade with Canada, including about 11,500 in Washtenaw County, 45,000 in Wayne County and 41,500 in Oakland County.
"You've got essentially 100,000 people in three counties in Southeast Michigan who depend for their employment on trade with Canada," he said.
Norton said the 83-year-old Ambassador Bridge, by itself, carries 25 percent of all U.S.-Canada trade. While there's no reason to believe it will fall down tomorrow, he said, it's not going to last forever.
"Bridges of its era were built to last 50 years," he said, suggesting it's past its prime and it would be an economic catastrophe if it goes out without a second span between Detroit and Canada.
"We Canadians were forced to make a choice," he said. "Maintaining a death watch on an 83-year-old bridge while crossing our fingers and hoping for its eternal life did not strike us as being responsible public policy, so in 2010 we stepped forward and offered to absolve Michigan of any liability for any part of the project."
Norton said the reasons for supporting the NITC are numerous and compelling, but there's really only one rational reason for opposing the bridge, and that's if you own the Ambassador Bridge.
"Because you will cease to enjoy monopoly profits," he said. "It will remain profitable, but evidently profitability isn't enough. Maximizing those monopoly profits for as long as possible, it would seem, is sufficient justification for holding hostage — literally holding hostage — millions of American and Canadian workers."
Ryan J. Stanton covers government and politics for AnnArbor.com. Reach him at ryanstanton@annarbor.com or 734-623-2529. You also can follow him on Twitter or subscribe to AnnArbor.com's email newsletters.