Posted on
Thu, Dec 23, 2010 : 6:03 a.m.
Young cancer survivor returns to C.S. Mott Children's Hospital to spread holiday cheer
By Juliana Keeping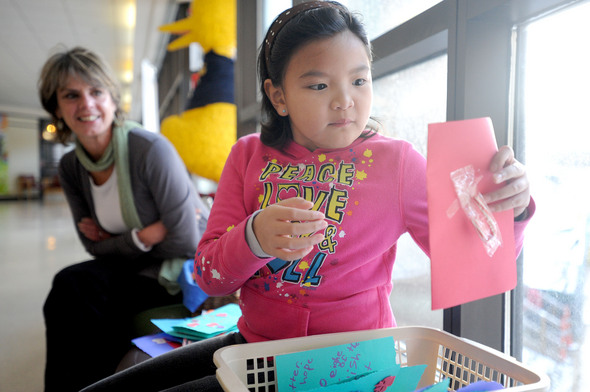 Angela J. Cesere | AnnArbor.com
An 8-year-old Ann Arbor girl who spent last holiday season battling cancer returned to Mott Children's Hospital in Ann Arbor on Wednesday.
But this year, Mariel Almendras isn't a patient. She visited the hospital to spread some Christmas cheer to other children, delivering cards and Beanie Babies -- presents from not just Mariel but her friends at Dicken Elementary, in Cathy Cieglo's second-grade class.
Mariel's first-grade class at Dicken did the same thing for her last year. The brightly colored batch of cards Mariel brought Wednesday were adorned with stickers and sparkles and candy canes, but more importantly, messages of support like "You're a really good friend" and "Hope you feel better soon."
Small gestures like that meant a lot to the Almendras family last year, Mariel's mother, Gemma, said.
"I am lost for words. It's just so heartwarming," she said.
Doctors found a tumor on Mariel's right ovary after the girl had complained to her mom and dad, Sean, of pain in her lower abdomen. They discovered Mariel had a germ cell tumor.
The cancer doctors found in her ovary is different than ovarian cancer that afflicts older women, but still extremely rare for girls her age, said Linda McAlister, a pediatric oncology doctor who treated Mariel along with Mark Vander Lugt. McAlister said Mott doctors had never seen a case like hers; they consulted with national experts and the gynecology oncologists to develop a treatment plan.
Doctors removed the tumor and Mariel's right ovary, and she received three rounds of chemotherapy. Mariel has no traces of cancer now, but doctors will monitor her closely until she is 13, when she'll officially be considered cancer free, her mother said.
"She maintained an amazingly positive outlook all the time," McAlister said. "She was incredibly cooperative, incredibly considerate of other patients and of the staff, and her family were extraordinarily nice. It was a pleasure to take care of her."
With a big smile, Mariel handed the cards and toys to Mott staff so they could deliver them to other children receiving cancer treatment.
She said presents and cards from her friends when she was sick made her "happy," and that she'd like to tell kids going through the same thing to feel better.
The family is making up for lost time - this year, Mariel got to wear two Halloween costumes, for example. She loves music, going to concerts and acting and writing, she said.
Families caring for loved ones the week before Christmas on the pediatric oncology floor said gestures like Mariel's really mean something.
Laurie Rodriguez's daughter Carleigh, 6, has battled neuroblastoma, a cancer of the nervous system, since she was 1 year old.
"If it helps her for a few minutes of the day, to forget the pain, forget why we're here, it's great," Rodriguez, whose family lives near Lapeer, said.
"It's humbling," she said. "It will bring you to tears sometimes, the generosity of people."
Jennifer Lamont's son, Cameron, was diagnosed with a very rare form of cancer when he was 16.
"One in a million kids get the cancer he has," she said. At Mott, Cameron endured 54 weeks of chemotherapy and radiation and had a grapefruit size tumor removed from his prostate. He also had had a stem cell transplant.
Last week the family found out the cancer had come back, and that it isn't curable.
"I do understand that this might be his last Christmas," said Lamont, whose family lives near Saginaw.
An organization called Go for the Gold gave the family a $100 Visa gift card. Cameron, 18, is in a lot of pain now, but his eyes lit up and the gift put a smile on his face, his mother said. He wants to use it to buy Christmas presents for others.
She said her family's experiences with Cameron's cancer have meant they've sacrificed financially, but that having less isn't a bad thing. Being able to give to others, she said, is what really matters. And not just during the holidays.
"It's what matters in life," she said.
You can see the Wish List at Mott Children's Hospital and learn how to donate at: www.med.umich.edu/mott/help/gift_wish.html. See below for more information.
Juliana Keeping is a health and environment reporter for AnnArbor.com. Reach her at julianakeeping@annarbor.com or 734-623-2528. Follow Juliana Keeping on Twitter