Posted on
Sun, Aug 1, 2010 : 6 a.m.
Candidates in Ann Arbor mayoral and council races say much is at stake in Tuesday's primary
By Ryan J. Stanton
What's at stake in Tuesday's Democratic primary election? The future of Ann Arbor, say the candidates running for city offices.
A slate of four challengers headed up by mayoral candidate Patricia Lesko is hoping to overthrow Mayor John Hieftje and three council members, claiming the incumbents have mismanaged the city's budget and lost sight of basic priorities.
Ryan J. Stanton | AnnArbor.com
The mayor and the three incumbent council members say that Ann Arbor is faring exceptionally well despite Michigan's economic downturn, and that many of the arguments made by the opposing slate either lack merit or demonstrate a poor understanding of how city government operates.
After months of heated political warfare amongst the candidates, it is now up to voters to decide on Tuesday if it's really time for a changing of the guard inside city hall.
"There's so much at stake. There's so much good we can do," Lesko says. "So I think it's important to recognize that there is dissemblance going on, that there is lots of business as usual, and that I'm offering a completely different kind of governance — one that is not concerned with my next political post. My basic vision is to have a city that is like a neighbor to the people inside of the city."
In addition to the mayoral matchup between Hieftje and Lesko, voters in three city wards will weigh in on Ann Arbor City Council races on Tuesday.
In the 1st Ward, Sandi Smith, a local real estate professional, will defend her seat against Sumi Kailasapathy, a certified public accountant.
In the 4th Ward, Margie Teall, whose background is in social work and photography, will defend her seat against Jack Eaton, an attorney who practices labor law.
In the 5th Ward, Carsten Hohnke, a consultant and president of West Pole Inc., will defend his seat against Lou Glorie, a real estate professional.
All of the candidates running are Democrats. Winners of the mayoral race and 5th Ward race will face challengers in the November general election.
"This is as ugly as it's ever been," Hieftje says of this year's races. "I think it's a Tea Party-like movement. Very similar to the Tea Party, we have people involved in this movement who have never been involved in city government, never even applied to serve on a board or a commission, and yet they want to lead the city."
Eaton, who has been a neighborhood activist for several years, says he doesn't think either side is going to simply sweep the election. Rather, it will be a race-by-race decision, he says, and there's no telling how it will turn out.
"I think what's at stake is simply our vision of what our city is going to be like in the long-term," Eaton says, "whether big development and vacancies and unstable real estate prices are going to continue to be our problem for the next five or six years, or whether we're going to hunker down and take a look at what's really important in the budget and take care of our infrastructure."
Hieftje, who has been in office a decade now, has grown visibly frustrated with the opposing slate's allegations of cronyism and back-room dealings. After a recent debate, he admits, he went out and removed some of his campaign signs from yards where they were placed next to signs for one of the challengers.
"I was offended by what I heard that night," Hieftje says. "You can only put up with so much. I would hope that there isn't a place in Ann Arbor politics for the kind of rhetoric that's been thrown around during this campaign."
But beyond the rhetoric, the challengers have raised real concerns that city spending is on the rise, leaving the city with more and more debt. City records show the city's debt rose more than 25 percent between 2006 and 2009, going from $167.2 million to $209.9 million. Meanwhile, governmental activities spending increased from $96.9 million to $130.2 million.
Narrowing the focus to the city's general fund, spending rose from $69.2 million to $83.9 million from 2006 to 2009. However, the budget is on downward trend now that the city is being forced to deal with declining tax revenues. The general fund budget for the 2010-11 fiscal year that started July 1 amounts to $81.45 million.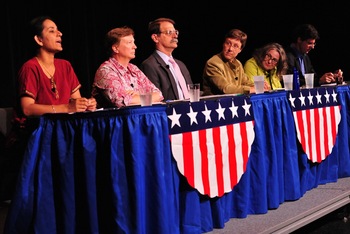 Ryan J. Stanton | AnnArbor.com
Hieftje and council members argue recent cuts to city services and employee losses have been minimal compared to what other cities in Michigan are facing.
"This election is of vital importance," Hieftje says. "There are council members who are up for reelection who have done a great job in a very tough environment, and I think it's very clear what's at stake: Are we going to be able to continue on a prudent but progressive fiscal course, or are residents going to go with a slate of candidates headed up by my opponent that hasn't offered any solutions?"
Kailasapathy calls Tuesday's primary a referendum.
"Do we want more of the same," she says, "or really take a radical different path from what's happening and get back to the core mission of providing the core services and living within our means and actually listening to the constituents?"
The challengers question why the crumbling Stadium bridges aren't yet fixed, while the city is issuing bonds for a new police-courts building and constructing a new underground parking structure downtown. The incumbents defend both projects, saying they are needed and revenue streams have been identified to fund them.
Lesko isn't buying it.
"If that bridge falls, I'll get elected — so will Jack, Sumi and Lou, and untold number of people will die," Lesko says. "Fix the bridge. It doesn't take a rocket scientist."
Teall says she doesn't think the challengers have proven they would work well with city staff if elected. For example, she says, staff has explained over and over again the plan to wait until next spring to repair the Stadium bridges.
"When do you stop second-guessing and micro-managing and trust that you have hired excellent people?" Teall says. "How do you move forward in the city when you keep going back to these old issues after things have been explained?"
Lesko says her transition into office would be difficult only if City Administrator Roger Fraser and his staff aren't willing to be held accountable.
"I've taken exception to some of his work because I've seen it to be flawed," Lesko says. "And it frightens me, frankly, to think that the person on whom council relies and depends is managing information in such a way that sometimes it's not accurate."
Smith says she's interested in smart growth, and she thinks the challengers would bring development in Ann Arbor to a halt if elected.
"I think it would be very difficult to get things done," she says. "They don't seem to be very strong consensus builders and they're not really willing to work with the people who are already there. They haven't shown that they know how to work well with others."
Hohnke says the incumbents offer a more positive and progressive vision for Ann Arbor. He says the challengers are offering solutions based on misinformation and illegal suggestions about how to redirect money from restricted funds.
Glorie says Tuesday's election is about the people. What's at stake, she says, is the continued livability and affordability of Ann Arbor, and the ability of citizens to have some input into their government and the direction it's going.
"If the incumbents all won, we would see a continuation of us managing by crisis," Eaton says. "We would go from year to year not addressing the structural problems in the budget. If all the challengers won, I think you would see a focus on essential services. We would look in the budget for those areas that have grown rapidly and unnecessarily and try to divert that money to areas that actually serve the taxpayers."
Ryan J. Stanton covers government and politics for AnnArbor.com. Reach him at ryanstanton@annarbor.com or 734-623-2529.