Posted on
Mon, Apr 23, 2012 : 1:02 p.m.
Car crashes into Panera restaurant in Ann Arbor; couple grateful they weren't sitting in their regular booth
By Cindy Heflin
Photo courtesy of Beth Wallace
Corey and Beth Wallace got to the Panera Bread restaurant on Plymouth Road in Ann Arbor a bit later than usual Sunday morning. Had they not, they might have been sitting right at the spot where a car crashed through the wall a few minutes later.
As it was, they were standing in a line at the cashier station when they heard what sounded like an explosion, Beth Wallace said. Then she noticed smoke coming in the building and smoke outside. Soon it was obvious what had caused the racket. The front section of a white car was protruding through a wall at the front of the restaurant, Corey Wallace said.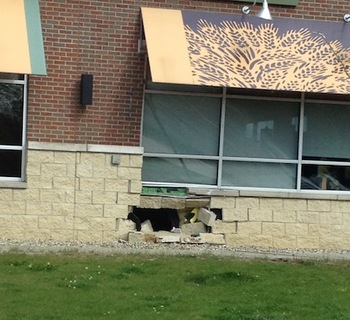 Photo courtesy of Beth Wallace
The restaurant was eerily quiet, Beth Wallace said. "I think everyone was just in shock," she said.
The Wallaces typically go to the Panera at 1773 Plymouth Road every weekend, and they normally sit in the area the car hit. Sunday, they were hoping their infant son would fall asleep before they got there, so they took an extra turn around the block before going in. Also, there was a line at the cashier that further delayed them. They feel fortunate because the car crashed into the spot where they normally sit.
"I'm still freaked out about it. It kind of makes you think about fate and why we weren't sitting there," Corey Wallace said. Wallace had even suggested to his wife that she go sit with the baby and wait for him to bring the food, but she decided not to.
"It's weird how fate works sometimes," he said. 'Our 5-month-old would have been in his car seat against the wall. There's a good chance he might have been hurt."
Wallace said the accident happened about 9:30 or 10 a.m. Sunday. The car's bumper and headlights were visible inside the restaurant, he said. The booth they normally sit at seemed to have been moved a bit from the impact, but fortunately no one appeared to be injured. The driver was sitting in a chair and talking on a phone after the crash, he said.
Ann Arbor police were unavailable Monday to provide information about the accident and what caused it.
The restaurant was closed for the rest of the day but reopened Monday morning, an employee who answered the phone said.
Despite the unsettling nature of the accident, Corey Wallace said he and his wife would probably go back to the restaurant. "We just won't be sitting by the window," he said.
Contact Cindy Heflin at 734-623-2572 or email her at cindyheflin@annarbor.com or follow her on Twitter.