Detroit Free Press:

Case of Julea Ward, kicked out of EMU program for declining to counsel gay client, set for trial

Posted on Tue, Sep 11, 2012 : noon
The case of a former Eastern Michigan University student kicked out of a counseling program after declining to counsel a gay client is scheduled for trial next month, the Detroit Free Press reported.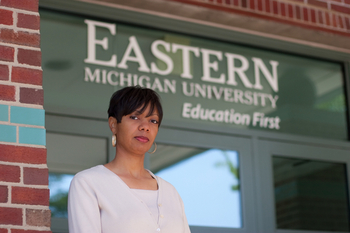 Photo courtesy of ADF
The university expelled
Julea Ward
from a master's degree counseling program, although she was just a few classes short of a degree and had a high grade-point average. She says she told professors that her Christian faith prohibited her from affirming homosexual behavior. She referred the client to another counselor.
EMU said Ward had violated the American Counseling Association's code of ethics, which the university's counseling program follows.
Ward sued EMU in 2009, but lost in the lower courts. Ward and her attorneys, the Alliance Defense Fund, a legal organization that works to uphold the rights of religious college students and faculty, appealed to the U.S. Court of Appeals for the Sixth District.
A three-judge panel of the court in January ruled a jury could conclude the university used the code of ethics "as a pretext for punishing Ward's religious views and speech." EMU denies any bias.
Lawyers argued in court Monday about who should get to testify in the case, the Free Press reported. The judge sided with EMU in a dispute about whether experts on the ACA's code should be allowed to testify. The judge said they could.