Posted on
Sat, May 15, 2010 : 8:26 a.m.
Catching up with Mark Schauer: Congressman talks high-speed rail, fair trade with China and more
By Ryan J. Stanton
U.S. Congressman Mark Schauer hails from Battle Creek, but his district stretches to the western limits of Ann Arbor — so he represents a good portion of Washtenaw County.
Schauer, who serves on the Railroad Subcommittee of the House Transportation and Infrastructure Committee, was in town on Friday, standing alongside Congressman John Dingell, D-Dearborn, as they championed the idea of bringing a high-speed rail system to Southeast Michigan.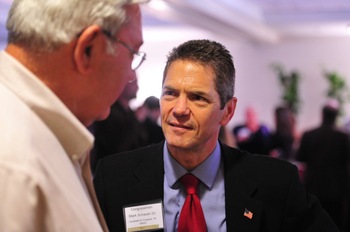 Ryan J. Stanton | AnnArbor.com
"I've long been a supporter of high-speed passenger rail," said Schauer, a Democrat. "The Amtrak line runs right through my district from Battle Creek all the way through to Ann Arbor and I know the economic impact of increasing the speed and reliability of people being able to commute or travel from one downtown to another. So the economic impact will be great. The job impact of making improvements to the rail lines themselves will be very positive for our area and for our state, and it's the right kind of investment."
After a meeting on Friday with other local, state and federal officials, Schauer said he thinks consensus is forming around the idea.
"The CEO of Amtrak was at our meeting, along with the leaders of Northfolk Southern that own and control that east-west line," he said. "So I think there's a growing consensus about the urgency of getting resources to increase the speeds and reliabilities of the passenger trains, and I think there's a strategy now to get that done and I'm fully on board."
Schauer, who is in his first term in Congress, served in the Legislature for 12 years. Before that he worked in the human services nonprofit sector where he administered programs like Head Start for children and Meals on Wheels for seniors and "everything in between." But beyond that, he says, he has a passion for economic development and helping businesses grow.
AnnArbor.com caught up with Schauer briefly on Friday.
Q: What have you been working on in Congress as of late on behalf of the residents you serve in the 7th District?
A: The reason I ran for Congress was to fight for Michigan jobs and one of the key issues in my last campaign was about trade and about a level playing field for Michigan workers and Michigan businesses to compete on. I just introduced a bill that really represents that. It deals with fair trade with China.
China has not signed on to a World Trade Organization agreement that deals with government contracts. So China has decided that they're not going to allow American businesses to compete on and win their government contracts paid by their tax dollars. And we're allowing Chinese companies to come in and bid on and win government contracts or government subcontracts and they're stealing our jobs and it's wrong.
That's a specific example of something I'm doing to make sure that our businesses and our workers can compete on a level playing field. The straw that broke the camel's back for me was when I found that some of our U.S. Census promotional materials that are urging people to fill in their Census form ... are made in China. (Holding up a keychain) This is a keychain that any tooling shop in Washtenaw County or Jackson County or anywhere around this Congressional district could make. And so we're using our tax dollars to support jobs in China rather than support jobs in Michigan and the U.S. and I'm working in Congress to change that.
Q: How did this happen?
A: It is a lack of common sense. I believe in fair trade. I believe in a level playing field and China is cheating in a number of ways. They're manipulating their currency to lower the cost of their goods and raise the cost of our goods. They're stealing our intellectual property, our patents and so forth. They're exporting to us unsafe products and then they're blocking their markets, their government contracts, to our businesses while they're bidding on and winning our government contracts. We shouldn't be doing it. We shouldn't be allowing it to happen.
Q: What else are you working on? What are some of the broader goals or ideas you'll be talking about in your reelection campaign this year? A: It really is all about helping make our state and our country more competitive. And that means helping entrepreneurs have the tools and resources to take their great ideas to market. And I'm doing that in a number of ways.
I'm supporting some grant programs and loan programs and research to help entrepreneurs in Michigan particularly compete in a global economy. It's making sure that our young people and our adults have the skills particularly in the area of science and technology and engineering and mathematics. It's critically important, so I'm focused on issues that will make us more competitive.
And the health care issue was an issue of economic competitiveness as well. We spend 16 percent of our nation's economy — our gross domestic product — on health care. The countries we're competing with spend 9 to 10 percent of their economies on health care, so we're not able to compete because of those disproportionately high costs. So I'm focused on anything that makes us more competitive and makes sure that we are ultimately in Michigan a global hub when it comes to the best research and development and manufacturing. I will fight to the end to make sure that we continue to be a manufacturing leader in a tough global economy right here in Michigan.
Ryan J. Stanton covers government for AnnArbor.com. Reach him at ryanstanton@annarbor.com or 734-623-2529.