Posted on
Wed, Jun 23, 2010 : 4:03 p.m.
Catholic Families for America endorses Republican Brian Rooney for Congress
By Ryan J. Stanton
Catholic Families for America, a national pro-life and pro-family group, has announced its endorsement of Republican Brian Rooney in Michigan's 7th Congressional District race.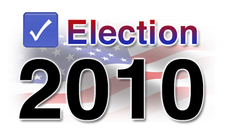 Catholic Families for America is one of the largest organizations of lay Catholics in the nation.
"In Brian Rooney, Michigan voters have someone who will bring the highest level of virtue and service that we can hope for in a public servant," executive director Kevin Roberts said in a statement.
"In fact, his background reminds me of precisely the kind of leader and public servant whom our founders envisioned when fashioning our Republic," Roberts said. "Moreover, Brian's commitment to pro-life and pro-family policies — coupled with his understanding that government must be made smaller, less intrusive, and less expensive — is precisely what we need in 2010."
Rooney is one of three Republicans running in the Aug. 3 primary for a chance to face Democratic incumbent Mark Schauer in the November general election.
The other Republicans running are Marvin Carlson and Tim Walberg.
Rooney said in a statement he appreciated the Catholic Families for America's support and that he was raised to respect the dignity of all human life.
"As a proudly pro-life and pro-family constitutional attorney, I advocated for family values and the sanctity of human life around the country," he said. "Michigan created the modern middle class. The values of this hard working class are embodied in Catholic Families for America. I will be a proud advocate for these families and will be focused on helping them get back to work."
A captain in the Marine Corps, Rooney served in Iraq between 2004 and 2005. After resigning his commission, he worked as an attorney at the Thomas More Law Center, a conservative constitutional law firm dedicated to the defense of religious freedom, family values, and the sanctity of human life as well as the promotion of a strong national defense.
Rooney serves on the Pittsburgh Steelers Board of directors and co-owns several other family-run businesses with his brothers and sisters.
Rooney came under attack last week by Carlson, who insisted he's the only candidate who has built businesses in the private sector and created jobs. In May, Carlson issued a challenge to his opponents in the 7th District primary to release their tax returns. All of them obliged except Rooney.
Click here for a list of candidates running for office in Washtenaw County, as well as links to their websites.
Click here for a map of the 7th Congressional District.
Ryan J. Stanton covers government and politics for AnnArbor.com. Reach him at ryanstanton@annarbor.com or 734-623-2529.